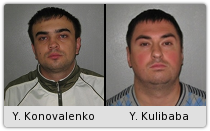 The Police Central E-Crime Unit (PCeU) of London's Metropolitan Police Service has announced the sentencing of two Ukrainian cybercrooks.
Yuriy Konovalenko, 29, and Yevhen Kulibaba, 33, were sent down for just short of five years each.
According to the PCeU, the pair were the lynchpins in a syndicate which got its hands on at least £2.8 million (approximately US$4.5 million) in just six months.
They used malware to steal internet banking credentials from unsuspecting victims, before moving money from the compromised accounts into a large number of accounts set up in the UK using fraudulent documentation.
Kulibaba, based in the Ukraine, is described as the main player in the scam, acquiring stolen credentials and arranging for the electronic theft and disbursement of the gang's ill-gotten gains.
Konovolenko, based in the UK, was the "man on the ground", organising the fraudulently-established accounts and orchestrating a bunch of operatives to finalise the crime by withdrawing cash.
Protect yourself against this sort of criminality:
* Keep your operating system and software patched – whatever operating system you use. Don't let malware sneak onto your PC through holes that you could already have closed.
* Keep your security software up-to-date, and check routinely to ensure that it's working properly. Most infections don't involve as-yet-undetectable malware and could thus easily have been prevented.
* Review your bank statements regularly to look for unauthorised transactions.
* Don't use the same password on multiple websites.
* Never do internet banking from a kiosk or an internet cafe. You can't tell what booby-traps the previous user may have left behind.
* If your bank offers two-factor authentication (2FA), use it. 2FA doesn't guarantee perfect safety, but it makes things harder for the crooks.