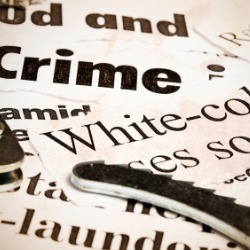 How annoying is it when someone, placed in a position of trust, rips people off? It is particularly distasteful when it involves thieving from senior citizens.
The snappily named Delaware County District Attorney's Criminal Investigation Unit has filed charges against Librado Wright, who held the position of financial specialist of Wachovia Bank (owned and operated by Wells Fargo), on multiple charges of insider fraud. The charges include theft, forgery, identity theft, access device fraud and related offenses.
Wright is accused of siphoning almost $600,000 USD from customer accounts, many of which were held by senior citizens.
The accounts that received the funds are reported to have been created in the names of existing "Wachovia customers who did not know about or authorize the opening of additional accounts", said Delaware County's News Network.
The plan went awry when the money was in the process of being transferred from the created Wachovia bank accounts via cheques and wire transfers. Wachovia Bank is being commended for catching the fraud in action.
BankInfoSecurity.com, part of the Information Security Media Group (ISMG), rightly points out that this is not the first time insider fraud has been attempted in a financial institution.
Remember the $20M USD embezzlement scheme at Citigroup Inc, where Gary Foster, a former vice president in Citigroup, pleaded guilty to the bank fraud?
With many of us using online banking, how do we ensure that we are not the victims of some greedy financial advisor on the inside?
The only way you, the customer, can keep your cash safe is by keeping an eye peeled on your finances: Look at all the accounts in your name on a regular basis; review your banking activities to see if anything is amiss; and lastly, report any dubious activity to your bank immediately.