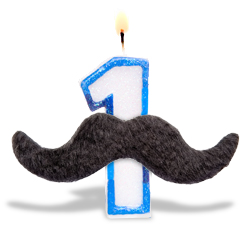 First, happy birthday to us. We are just over one year old.
We have had millions upon millions of visitors since we first launched last year. Thanks to all of you and our wonderful writers.
I hope we provide you with a great security news service: sometimes serious, sometimes humourous, sometimes controversial, but always interesting. And I hope we do an even better job in the year ahead.
To celebrate our birthday, we have convinced our very own super blogger Graham Cluley to grow a wonderful bushy moooouuuuustash in aid of Movember. And he isn't alone. There a number of teams at Sophos supporting the Movember effort, all competing to see who can raise the most money.
For those of you who are new to Movember, the short version is men from all around the world join together and grow moustaches, to raise funds and awareness for men's health; specifically prostate and testicular cancer.
We'll be sure to post a few photos and fundraising totals at the end of the month.
Oh, and if you would like to make a donation you can sponsor Graham by following this link: http://mobro.co/GrahamCluley.
Thanks again!