The popular sportswear manufacturer Adidas has suffered what it is referring to as a "sophisticated, criminal cyber attack" made against a number of its websites.
Affected sites include adidas.com, reebok.com, miCoach.com, adidas-group.com and various local eCommerce shops.
The German company is currently performing a forensic review, and reports that it has not yet found any evidence that any consumer data has been stolen as part of this attack.
Adidas posted a statement on its news site. The full statement at the time of writing is shown below: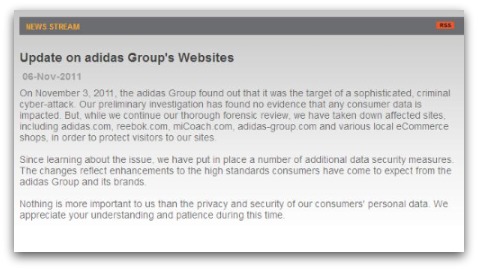 Adidas also reports that it has bolstered its security measures, but does not offer any details on what bolstering entails. Of course, taking the Adidas websites offline is a pretty drastic security step, and one I can't imagine the company took lightly.
We would recommend that anyone who has shopped online at any of the affected sites change their passwords as soon as possible.