Two new videos have surfaced purporting to be from the online collective known as Anonymous. The first video was posted on the New Alliance Party's website after it was hacked and defaced.
The video was also posted to YouTube with the title "Anonymous declara la guerra a la corrupción del gobierno mexicano" which translates to Anonymous declares war on Mexican government corruption in English.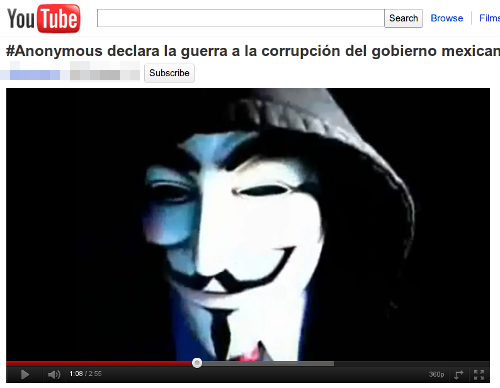 These attacks occurred during an election where the sister of President Calderon was running for office in the state of Michoacán.
Anonymous alleges the government is responsible for much of the cartel related violence due to corruption.
Around the same time another arm of Anonymous began making threats against the City of Toronto in Canada.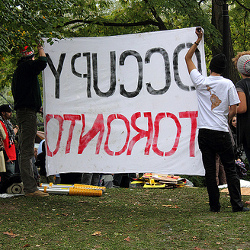 Anonymous is threatening retaliation after the announcement by Mayor Rob Ford that he will announce when he intends to evict the protesters from St. James Park this week.
The robotic voice in the YouTube video that was posted suggests they will take the city offline, which likely means they will use a distributed denial of service (DDoS) attack against City of Toronto websites.
As always it is difficult to know whether these messages are really from the "main" group of Anonymous or from some random person who posted it under the Anonymous banner.

Nothing against Torontonians, but I am not sure how their city's website being DDoS'd is supposed to disrupt my life.
While it is criminal to participate in an attack like Anonymous is suggesting, I am not sure how committing these crimes really helps their movement.
Free speech, especially political speech is a very important issue, but you don't need to participate in criminal activities in order to use it.
Creative Commons photo from Occupy Toronto courtesy of ryPix's Flickr photostream.