Almost 200,000 Facebook users have been duped into sharing and reposting a message about a 14 year old boy who was allegedly beaten badly by his stepfather after protecting his little sister from being raped.
The message, which comes attached to an image of a young boy's injured torso, claims that Facebook will donate 45 cents for the cost of life-saving surgery, every time that a user reposts or shares the message.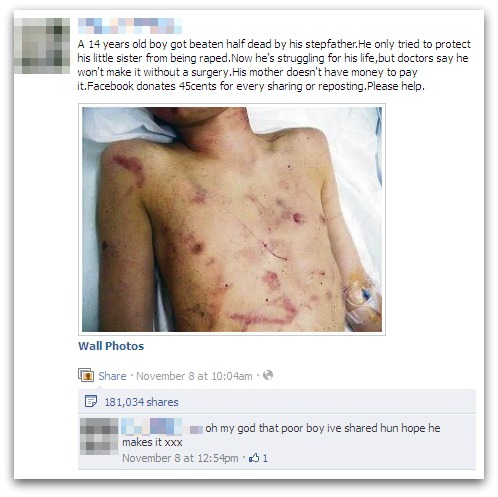 A 14 years old boy got beaten half dead by his stepfather.He only tried to protect his little sister from being raped.Now he's struggling for his life,but doctors say he won't make it without a surgery.His mother doesn't have money to pay it.Facebook donates 45cents for every sharing or reposting.Please help.
At the time of writing, over 181,000 people have reposted or shared the photo and accompanying message on Facebook. Every few seconds we can see more Facebook users passing it onto their friends.
Of course, the claim that Facebook is donating money is nonsense. Facebook is doing nothing of the sort – and if it were donating money to a young boy's surgery they surely would not base it upon the number of times a message or photo was shared.
You'll notice that the message includes no information supporting the story, no link to an official Facebook blog announcing the initiative, no details on where in the world the boy might be, or links to news stories that corroborate the claim. There's not even a date when the incident is claimed to have taken place, which means that a hoax chain letter like this can have a life of its own and continue to spread many years after its first appearance.
Facebook is a breeding ground for rumours, hoaxes and chain letters because users find it so easy to forward bogus alerts and poorly-researched warnings on to all of their friends at the click of a mouse.
If a friend of yours shares a message with you like this on Facebook, remind them about the importance of not spreading chain letters and suggest that they inform all of their friends that they were mistaken (maybe they could link to this article if anybody needs convincing?).
Don't forget you should join the Sophos Facebook page, where we not only debunk hoaxes and chain letters, but we also keep you up-to-date on the latest rogue applications, scams and malware attacks threatening Facebook users.