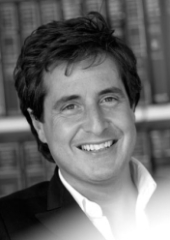 The first day of an inquiry into phone hacking by the British media was briefly interrupted today, by a Trojan horse.
David Sherborne, a QC representing phone hacking victims, interrupted the Leveson Inquiry at the High Court in London to reveal that his computer was infected by a data-stealing Trojan horse.
Sherborne, who represents celebrities such as Hugh Grant and Jemima Khan as well as the family of murdered schoolgirl Milly Dowler, asked to rise from the hearing to investigate his IT problem – presumably concerned that somebody could be using malware to steal private information from his computer.
Conspiracy theorists might speculate that the most likely people behind a malware attack on a barrister representing victims of newspaper-endorsed voicemail hacking might be the newspapers themselves – especially as claims have been made in the past about the use of Trojan horses.
However, chances are that Sherborne was not specifically targeted – and just fell victim (as many thousands of computer users do every day) to a regular attack by a malicious Trojan horse. Without more information, or a sample of the malware found on Sherborne's computer, it's simply not possible to draw a conclusion one way or another.
Here is how The Telegraph reported the incident on its live blog of the inquiry: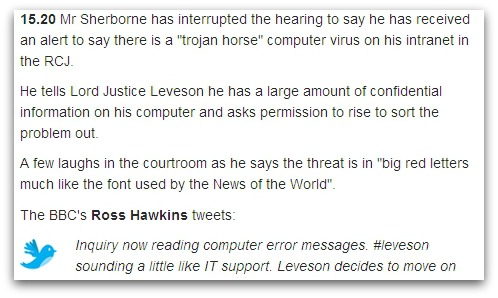 Meanwhile, the latest news from the Leveson Inquiry is that notebooks belonging to private detective Glenn Mulcaire suggest that it was not just the "News of the World" which were involved in phone hacking, but also its sister paper "The Sun" and rival tabloid "The Daily Mirror".
Heather Mills, the former wife of Paul McCartney, claimed earlier this year that a Mirror journalist admitted hacking her private voicemails.
The Sun and the Daily Mirror deny the allegations, which have not yet been tested in court.