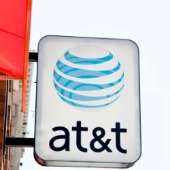 Yesterday, telecommunications giant AT&T admitted to customers that hackers have organised an attack against 1% of its wireless account customers.
As the 14th largest company in the world, boasting 100.7 million wireless users, 1% is not as insignificant as it originally might sound.
Hackers used auto-script technology to seek out telephone numbers associated with online AT&T accounts, according to ComputerWorld.
The attack was unsuccessful, though it isn't clear whether the attempt was flawed or thwarted by AT&T security teams. The good news is that AT&T report that no information was breached.
In an effort to keep potentially targeted customers up to date, the Dallas-based company sent out an email from its executive director of media relations Mark Siegel. According to several reports, it included the following information:
"We recently detected an organized and systematic attempt to obtain information on a number of AT&T customer accounts, including yours…We do not believe that the perpetrators of this attack obtained access to your online account or any of the information contained in that account."
"No accounts were breached and our investigation is ongoing to determine the source or intent of the attempt to gather this information."
This is not the first time hackers went after the company. Last year, AT&T was targeted by hackers who managed to obtain the email addresses of iPad users. Hackers had collected the addresses from the auto-fill function on AT&T's iPad customer logins.