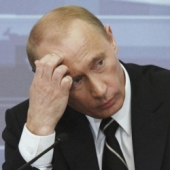 Could elections in Russia have resulted in internet attacks on websites claiming that the vote was being fixed?
This weekend's vote, which saw a slump in support for the United Russia party of Prime Minister Vladimir Putin and President Dmitry Medvedev, has taken place against a backdrop of arrests, claims of election violations, and – now – website attacks.
Compromised computers around the world can be ordered to deluge a website with internet traffic, effectively clogging it up and bringing the site to its knees. The attack, known as a distributed denial-of-service (DDoS), exploits poorly-defended home PCs to bombard sites with requests.
DDoS attacks have been used to blackmail websites in the past, but of course, it's also a fairly simple way of shutting up a site if you don't like what it's saying too.
This weekend, popular Russian media websites and the LiveJournal blogging platform were brought down by what appears to be a co-ordinated denial-of-service attack, just as the nation was about to hold elections.
Some have alleged that the cyber attack was deliberately timed to coincide with elections in Russia, as the sites were exposing what they claimed to be widespread voting fraud in the country.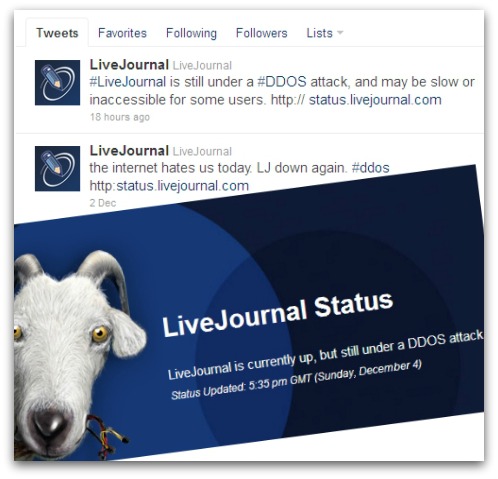 Aside from the LiveJournal blogging platform – which is immensely popular in Russia – websites which were hit by attackers included Russian radio station Moscow Echo and election monitoring group Golos.
In a statement published on its website, Moscow Echo says that it has officially requested that the authorities investigate the denial-of-service attack against its website.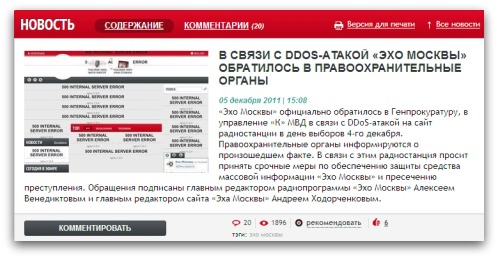 Moscow Echo's editor-in-chief was reported as having no doubts as to the motive of whoever was behind the denial-of-service attack:
"The attack on the website on election day is clearly an attempt to inhibit publication of information about violations."
Of course, with the DDoS traffic coming from victims' computers it's very hard to prove who was behind the attack. Inevitably, some will assume that the Kremlin may have wanted to quieten voices criticising how the election was being run and it is true that Vladimir Putin has suffered a slump in popularity and criticism via websites such as YouTube.
But even if the DDoS attacks were politically motivated, investigators will have a devil of a time proving that they were backed by a political party rather than the work of a lone wolf supporter who took matters into his own hands.