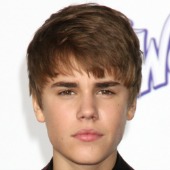 Facebook scammers are claiming that teen hearthrob Justin Bieber has been stabbed in an attempt to trick concerned fans into clicking on a link which will earn them money.
The messages, which include a thumbnail image of a young man's back badly slashed with a knife, say that the pint-sized singer was stabbed by a crazed fan outside a nightclub in Los Angeles.
A typical message spreading on Facebook looks as follows:

Justin Bieber STABBED By CRAZED Fan Outside L.A. NightClub!
[LINK]
OMG! NOOOO! Could YOU Even Imagine?!?
Other versions claim that Bieber was stabbed (again by a crazed fan) outside a nightclub in New York:
Justin Bieber STABBED By CRAZED Fan Outside N.Y.C. NightClub!
The truth is, of course, that no such stabbing took place, in either city. If it had, then it would surely be making headlines on the websites of established news organisations such as the BBC and CNN.
But Bieber's young fanbase is unlikely to check their facts before clicking on the link to discover more about the alleged injury.
And if users do make the mistake of clicking on the link they are taken to a webpage with what appears to be a YouTube video, presumably of the fictional stabbing.
However, you will notice that visitors are asked to share the link on Facebook before they may watch the video.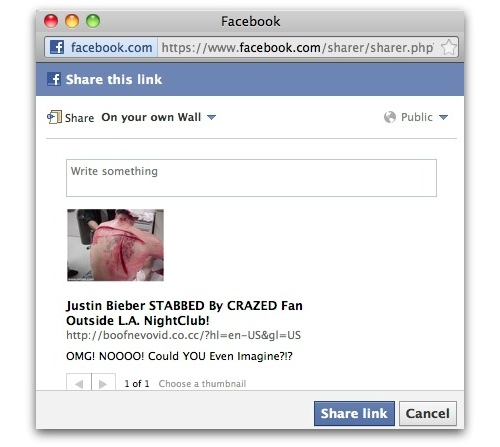 In their desperation to learn more about Justin Bieber's health, young fans may be only too willing to spread the link to their Facebook friends – thus helping the scam spread virally.
However, the truth soon becomes apparent. Because the next thing users will see is that they are required to complete a survey before they will be allowed to watch the video.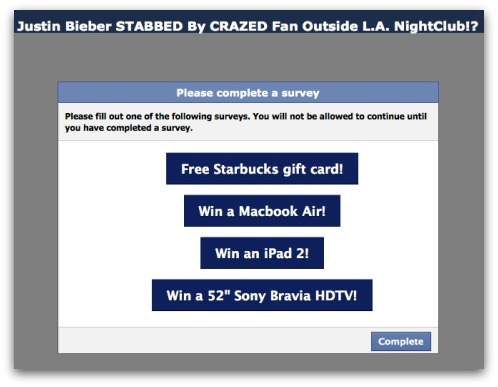 The scammers earn commission for every survey they manage to trick users into taking. They are only using the claim that Justin Bieber has been stabbed to try to lure as many people as possible into spreading their link, and taking their money-making surveys.
If you were fooled into participating in this scam remove the message from your newsfeed, and delete any messages you may have inadvertently shared with your friends. That way at least you are no longer spreading it with your online chums. You can also report the link as spam – hopefully if enough people do it, Facebook will begin to stop the scam from spreading.
Make sure that you keep informed about the latest scams spreading fast across Facebook and other internet attacks. Join the Sophos page on Facebook, where over 150,000 people regularly share information on threats and discuss the latest security news.
Image of Justin Bieber courtesy of
Helga Esteb / Shutterstock.com.