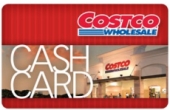 Scams are sadly a fact of life if you're a Facebook user, and scammers are constantly dreaming up new lures designed to trick users into clicking and sharing their revenue-generating links.
One of the schemes we frequently see being used on Facebook is the "free gift card/voucher" scam, where users are tricked into believing that a company is giving away gift cards to Facebook users.
Here's the latest, spreading rapidly on Facebook right now:

Get a Costco Gift Card for FREE! (limited time only)
[LINK]
Costco is currently giving away $100.00 gift cards to all Facebook users!
Let's take a second to think this through properly.
If you assume the message is true, and that Costco really is prepared to give "all Facebook users" a $100 gift card, and believe that Facebook are correct in saying that they have over 800 million users, that means…
#takes out calculator..
A jaw-dropping maximum of $80,000,000,000 (80 billion US dollars)! That's quite a budget Costco has there for its social media campaign! 🙂
Of course, the truth is that the message has nothing to do with Costco at all. It's simply a case of scammers trying to trick you into clicking on the link.
If you do click, the very first thing you are asked to do is share the link further with your Facebook friends and like the page – thus helping the scam spread virally.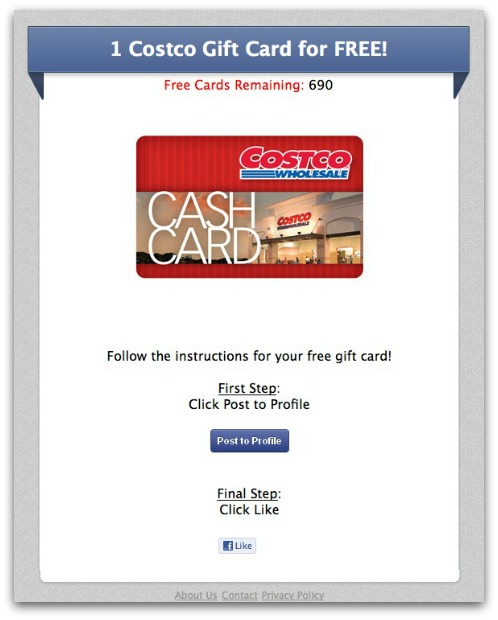 The intention, of course, is not to award you with a $100 gift card – but instead to drive traffic towards an online survey or questionnaire. The scammers earn commission the more people they trick into taking their online survey.
In my case, I was bemused to find myself asked to take a survey asking me if I wear MAC makeup?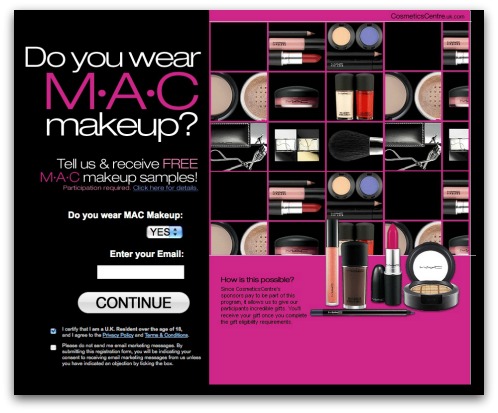 Err.. no, I don't.
Whether it's fake iTunes gift certificates or gift cards to save you money at ASDA, Tesco, Argos or Starbucks – Facebook users can't seem to resist falling for the bogus offers, which only serve to earn cash for the bad guys.
If you got hit by this scam, make sure you have removed the entries from your news feed (to stop them being shared amongst your friends) and check your profile does not have any unwanted "Likes" under your "Likes and interests".
If you use Facebook and want to get an early warning about the latest attacks, you should join the Sophos Facebook page where we have a thriving community of over 150,000 people.