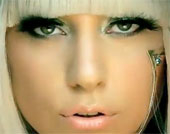 A scam claiming to offer free iPads has appeared on the Facebook page of pop phenomenon Lady Gaga.
With over 45 million fans on Facebook, the scammers must have been rubbing their hands in glee – imagining just how many people might click on the link without thinking.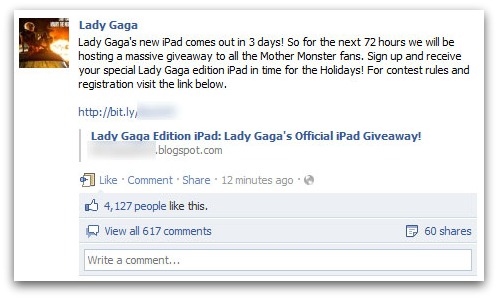 Lady Gaga's new iPad comes out in 3 days! So for the next 72 hours we will be hosting a massive giveaway to all the Mother Monster fans. Sign up and receive your special Lady Gaga edition iPad in time for the Holidays! For contest rules and registration visit the link below.

[LINK]
Lady Gaga Edition iPad: Lady Gaga's Official iPad Giveaway!
Of course, hitting one of the most popular figures on Facebook has its drawbacks for scammers – it's not as though people aren't going to notice. And within one hour the offending post was removed.
However, that wasn't quick enough to stop some people from clicking on the link – in the mistaken belief that they might receive a free iPad from the eccentric singer.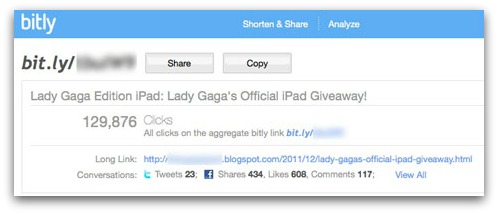 The webpage users were directed to was hosted on the free blogspot service, and has since been removed. Anyone who clicked on the link, and filled in online forms, may have unwittingly handed their personal information to scammers and potentially helped them earn revenue by completing online surveys.
There are reports that the Facebook pages of the bands Maroon 5 and Blink 182 had also been hit by similar scams.
Here's a screenshot taken by @varunrevamped of Maroon 5's Facebook page, showing an iPad scam on their page:

It is, of course, particularly important that the administrators of popular Facebook pages – which can have many millions of fans – take security seriously to minimise the possibilities of passing a scam on. If nothing else, it's not terribly good for the brand to annoy your fans or to put them at risk.
If you use Facebook and want to get an early warning about the latest attacks, you should join the Sophos Facebook page where we have a thriving community of over 150,000 people.
Hat tip: Thanks to Naked Security reader Melanie for informing us about this incident.