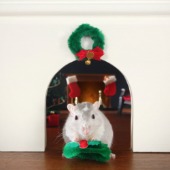 We are slowly winding down for the Christmas break, and we wanted to thank you, our lovely readers and commentators, for all your help throughout the year.
To all of you who spotted inconsistencies or typos, offered us your point of view, recommended us to friends and colleagues, and generally helped us on our way, we tip our snow-flecked Santa hats to you.
Since our launch last November, we've aimed to give our readers the latest security news peppered with a little advice, research and opinion.
But this all takes a tremendous amount of work, and a few of our writers will be going on a well deserved holiday. And that is why you might notice a little less content than usual over the coming holiday.
But we promise we will jump back into our writing seats in January.
See you back here in 2012!
Oh, and if you fancy something topical to read over the break – be sure to check out our short history of Christmas malware.