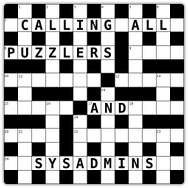 Are you working over New Year, like Sophos Support and SophosLabs?
If so, here's a bit of fun – official, educational fun – to tide you over the hours when everyone else is taking your presence in the office for granted.
A crossword puzzle for computer geeks!
You can solve the puzzle online or using a downloadable PDF.
If you complete the puzzle successfully, whether on-screen on on paper, capture a screenshot, take a picture with your mobile phone or scan it in, and email it to me.
The first thirty correct entries received before the end of the first Friday in January, i.e. before 2012-01-06T23:59:59-12 in RFC3339 notation, will win a prize. (Sorry. No great riches here. Prize values will be below AU$25.)


If you get stuck, your favourite search engine will help you greatly. If you are still stuck, try emailing me for hints, or following the hashtag #sophoscrossword on Twitter.
PS: Sophos staff and family are encouraged to enter but are not eligible to win prizes.