Messages have spread rapidly across Twitter and Facebook in the last few hours, claiming that the 1980s British popstar Adam Ant has died.
According to the messages, the musician – who had hits with songs such as "Prince Charming" and "Stand and Deliver" – died from injuries he sustained in a jet ski accident on the Turks and Caicos Islands.
Although some users are just tweeting their respects at the "news" of Adam Ant's death, others are posting a link to what appears to be an online news report about the musician's death.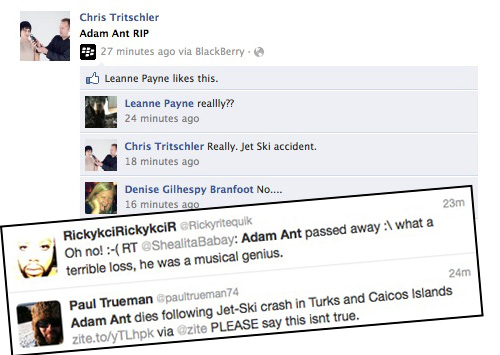 It's a very sad story. Or at least, it would be if it was true.
Here's what you see if you follow the link.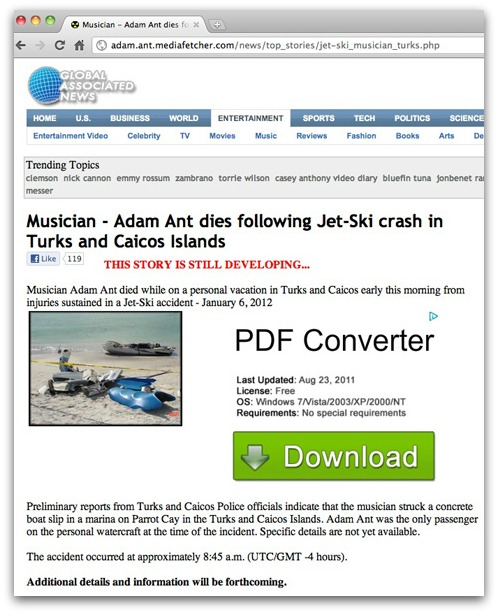 Do you notice the "adam.ant" in the url? I wonder what happens if I change that to include my own name.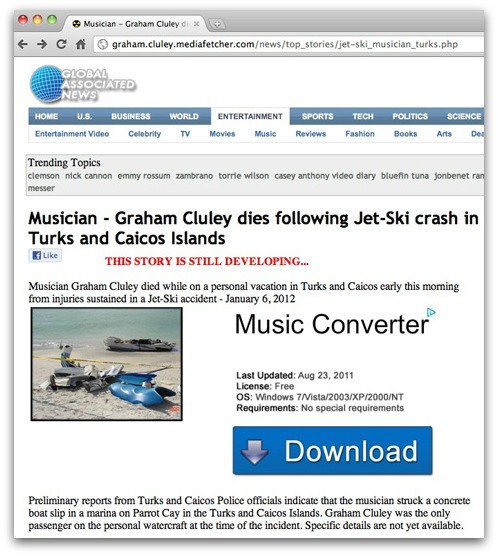 Well fancy that – I'm a dead musician!
Some small print, included at the bottom of the webpage in a tiny font gives the game away for anyone who hasn't realised that the report is utterly bogus:
FAKE... THIS STORY IS 100% FAKE! this is an entertainment website, and this is a totally fake article based on zero truth and is a complete work of fiction for entertainment purposes! this story was dynamically generated using a generic 'template' and is not factual.
Of course, the sheer number of people tweeting out the link won't have done any harm at all for the website – which presumably is earning revenue from the adverts plastered on its fictional news report.
Always think carefully before believing breaking news that someone has shared with you on the net. If a major news outlet has not confirmed it to be true, it's possible that you could be falling for a confidence trick.
Just imagine the harm that could occur if there was malware lying in wait at the end of that salacious news story link?
No doubt this won't be the last time that a rumour spreads quickly across the internet that a celebrity has died. Remember when Christian Slater was killed in a snowboarding accident? Or Tom Cruise fell to his death off a cliff in New Zealand? Or Johnny Depp came to a sticky end in a car crash?