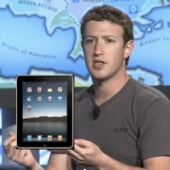 Has Apple really partnered up with Facebook? Is the social network really giving away free Apple iPhones and iPads to randomly selected individuals?
Would you believe such a tall story? Would you forget that iPhones and iPads are selling like hot cakes anyway, and that Facebook doesn't seem to need any gimmicks to lure people into joining their social network? Would you allow your desire for the latest tech gadget blind you to the plausibility of the offer?
Scammers are hoping you will be tricked by a message offering free iPads and iPhones that has been spammed out across the internet, claiming to come from Facebook CEO Mark Zuckerberg:
Part of the email reads as follows:
My name is Mark Zuckerberg, Chief Executive Officer of Facebook. We have recently partnered up with Apple company for a one-time promotional event today, we are giving away free Apple iPhones and iPads to randomly selected individuals who have been fortunate to be picked as one of our newest winners for today. We randomly selected users from our systems database and you have matched with our latest drawing.

We have partnered up with Apple to advertise their most popular product yet, the Apple iPhone and iPad. Once again, we are running this campaign for one-day only. All you need to do is CLICK HERE to check out our web site made for this promotion and fill out this short survey to get yours for free. Simply make sure you enter your email so we may locate our records to guarantee that we have reserved one for you. That is it!
Clicking on the link, however, might lead you to an online competition claiming that you are the "potential winner" (hang on.. I thought I had *already* won a prize from Zuck?) of an iPhone.
Apparently all I need to do is answer a simple question to be in with a chance of winning a free iPhone 4S.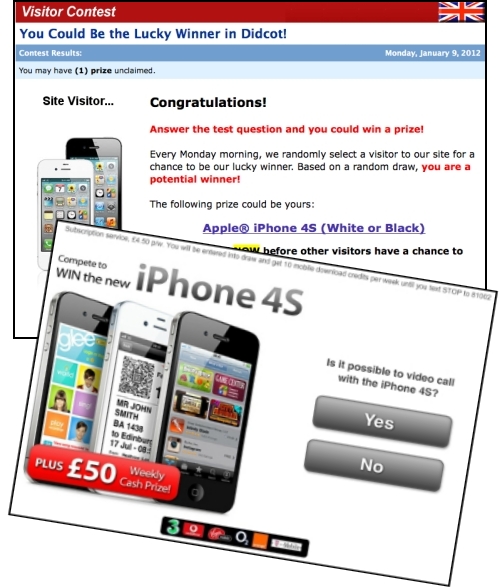 But make sure that you read the small print. It turns out that by participating you are signing up for a mobile phone subscription service, which will charge me some £4.50 a week.
The motivation of the spam message claiming to come from Mark Zuckerberg, is to drive traffic to online competitions and surveys like this – the spammers will earn affiliate commission every time they trick someone into signing up.
You should always be suspicious of offers which sound too good to be true, and look out for clues which ring alarm bells (in this case, for instance, "Mark Zuckerberg" has written from a Hotmail address – hardly likely!)
There are certainly plenty of scams spreading at the moment which target Facebook users. If you are a member of the social network and want to get an early warning about the latest attacks, you should join the Sophos Facebook page where we have a thriving community of over 150,000 people.