It's January, and at Sophos that means it is time for our biannual Security Threat Report. We are still hard at work putting the finishing touches on the report, which should be available in about two weeks.

So why am I writing this now? I will be delivering a webcast with Dark Reading on January 26th, 2012 covering the most important points in the report and want to make sure I get some time on your calendar so you can join me.
The webcast will be from 19:00-20:00 UTC (2PM – 3PM Eastern, 11AM – 12PM Pacific) where I will present the following:
The latest malware attacks and how they work

How to keep your organization and data safe

Predictions for the threat landscape in 2012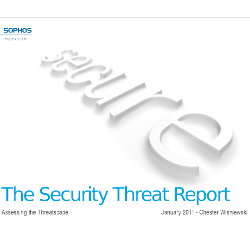 In addition to presenting our latest research I will be doing an extensive Q & A, where I will do my very best to answer your questions about the security landscape.
Not only were the last six months a busy time for security news, the types of threats we face and how we evolve our security policies ti defend against them changed dramatically as well.
Rather than just reporting the news, I will try to provide practical, achievable advice on the easiest ways to protect your network and your data.
I hope you will join me and download the report once it is available.