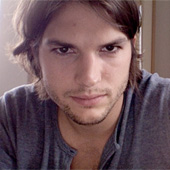 With over nine million followers, Ashton Kutcher is a powerful figure on Twitter.
A link or endorsement posted by the actor, who recently separated from Demi Moore, is something that many brands and websites would dream of, imagining the traffic that would come as a consequence.
So it's perhaps no surprise to find that some mischief-makers might also delight in trying to hack into Ashton Kutcher's online accounts, to see what trouble they could cause.
The "Two and a half men" star's Twitter account posted some bizarre messages on Sunday, apparently confirming that he was in a romantic relationship with Lorene Scafaria:
First official sleepover with my girl @lorenescafaria so maybe breakfast with everyone next time! (@ Lorene's House). [LINK]
and
Check out my new girl Lorene's House (Los Angeles, CA) on foursquare. [LINK]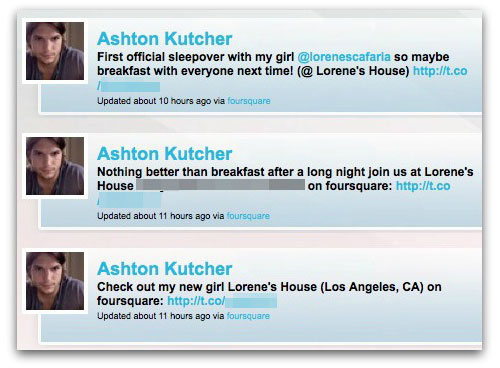 Celeb-watching websites jumped on the news, which confirmed rumours that have been milling around for weeks that Kutcher and Scafaria may be in a relationship but there was only one problem… the messages posted on Kutcher's account weren't made by him.
It appears instead that Kutcher had fallen victim to a hack. Specifically, it looks like Kutcher's Foursquare account (which is connected to his Twitter account) may have been compromised, allowing the hacker to claim to be the actor checking into locations, and for them to be then tweeted to his millions of fans.
Kutcher removed the offending tweets (perhaps worried about what Demi Moore would think)
Had Kutcher chosen a poor, easy-to-guess or non-unique password? We don't know – but the damage was done, and it took some six hours for the star to notice and take any action.
A hack like this could be embarrassing for anyone, but it really must feel particularly galling when you're someone like Kutcher who has made no secret of publicly investing in the Foursquare company.
Kutcher posted some messages (subsequently deleted) to his Twitter account, acknowledging the hack:
So apparently someone thinks they are clever hacking my account. #lame
and
Ok mr hacker, you only made one mistake. You hacked my Foursquare and I now know your address. Whoops.... This is gonna be fun.
At the time of writing, only one message related to the hack remains on Kutcher's Twitter account – an image apparently showing where the star believes his hacker to be located: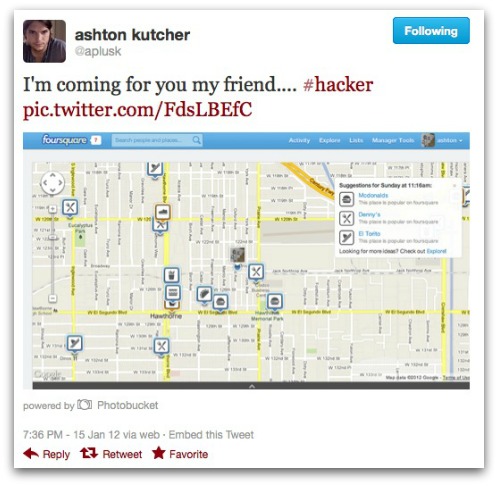 If Kutcher really believes he may have a clue as to where his hacker is based, he would be better handing the information over to the police rather than (potentially) encouraging his more ardent fans to take the law into their own hands.
Of course, this isn't the first time we've seen Ashton Kutcher's Twitter account come under attack. Last year, for instance, the star was outfoxed by a hacker using the Firesheep tool. While attending a TED conference in Long Beach, California, the actor's Twitter account was hijacked by someone who posted pro-SSL graffiti (an attack that could have been easily avoided).