Facebook users are innocently sharing advice with their online friends about how women can avoid being kidnapped and raped, not realising that they are perpetuating a hoax.
Here's a typical message that is being shared, which comes attached to an image of a young woman gagged and tied up in the trunk of a car.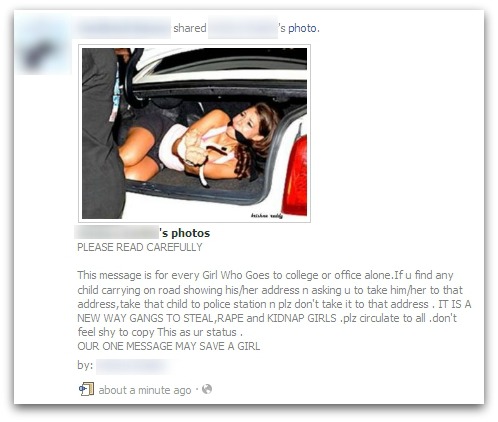 PLEASE READ CAREFULLY

This message is for every Girl Who Goes to college or office alone.If u find any child carrying on road showing his/her address n asking u to take him/her to that address,take that child to police station n plz don't take it to that address . IT IS A NEW WAY GANGS TO STEAL,RAPE and KIDNAP GIRLS .plz circulate to all .don't feel shy to copy This as ur status .
OUR ONE MESSAGE MAY SAVE A GIRL
A different version reads:
ATTENTION ALL GIRLS AND LADIES: if you walk from home, school, office or anywhere and you are alone and you come across a little boy crying holding a piece of paper with an address on it, DO NOT TAKE HIM THERE! Take him straight to the police station for this is the new 'gang' way of Kidnap and rape. The incident is getting worse. Warn your families and friends. Repost this please!
So, are rapists really luring victims by using young children who appear to be lost?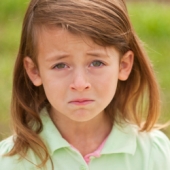 No, says Snopes, which reports that the warning has been spread on the internet since at least 2005.
Snopes further reports that despite scouring media reports, they managed to find no confirmed cases of such a technique being used by attackers.
It therefore feels right to file this warning under the title of "baseless scare", and ask Facebook users to stop sharing it with their friends.
You can read more about the hoax on the Snopes website.
If you use Facebook and want to get an early warning about the latest scares, scams and internet attacks, you should join the Sophos Facebook page where we have a thriving community of over 160,000 people.
Image credit: Young girl crying from Shutterstock.