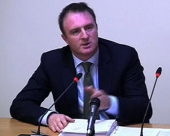 The editor of The Times has today apologised, after he admitted a journalist had hacked into a serving police officer's email account.
In 2009, The Times newspaper outed Lancashire detective Richard Horton, revealing him to be the anonymous author of the NightJack blog.
The paper had successfully overturned an injunction preventing it from identifying the blog's author, arguing that the information was in the public's interest and that the author's identity had been obtained through legitimate journalistic means.
However, emails presented at the Leveson Inquiry today reveal that a Times journalist, named as Patrick Foster, hacked into the email account of the police blogger.
Editor James Harding told the inquiry into press standards that he regretted the intrusion and expected "better of The Times".
The Leveson Inquiry heard that The Times fought its battle in the courts to unmask the NightJack blogger *after* its reporter had told management that he had accessed Horton's email account.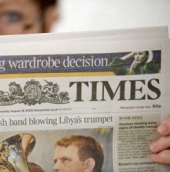 According to Harding, the details of the incident had only recently come to his knowledge.
"A great deal of what we now know is a result of pulling up emails, looking at the legal correspondence. All of this has been made available in the last week," said The Times editor. "To be absolutely clear, if Mr Foster had come to me and said that he had done this, we would have taken disciplinary action and I would have told him to immediately abandon the story."
Last month, Simon Toms, News International's interim director of legal affairs, revealed that a Times journalist had been disciplined for involvement in computer hacking – but details of which reporter and the victim of the hacking were not at the time revealed.
In recent months, allegations have been made that newspaper journalists (or private investigators working for them) hacked into computers belonging to police chiefs, government ministers and former army intelligence officers.
One wonders what other allegations of hacking might emerge about other newspapers, and other journalists..