Are you a West Coaster?
Will you be in or around San Francisco in the last week of February 2012?
Are you interested in security? Would you like to have some technofun for free?
If so, you can sign up for a free RSA Conference 2012 Expo pass, using the code SC12SPH.

You'll get access to the Expo, the conference briefing centre, the expo hall pub crawl (that's "free as in beer"), the conference keynotes from Wednesday to Friday, and more.

Better still, you can drop in on Sophos at booth #1817 and say "G'day" to Naked Security writers Chester Wisniewski and Paul Ducklin.
We like to enjoy ourselves on our booth, so each day we'll be:
Performing Live Malware Demos showing you how the cybercrooks go about their business, and how you can defend yourself.
Having fun with mathematics and cryptography (honestly).
Giving away cool T-shirts which contain a geeky puzzle, as well as daily prizes for solving it.
Running a daily draw for a Macbook Air.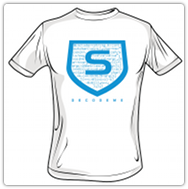 Sign up today…and we'll see you in two weeks' time in San Francisco!
(Yes, you can have a T-shirt even if you aren't into solving the puzzle.
And, yes, we'll be publishing the puzzle here on Naked Security so that you can solve it even if you aren't going to San Francisco.)