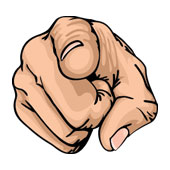 We need your help – we're looking for article ideas.
Calling IT managers… You're busy. Everyone expects everything to be working smoothly. All. The. Time. And when it doesn't, you're expected to fix things faster than a cougar chasing a herd of college boys. Roar.
Bet you'd like some useful articles to make your life a bit easier?
What articles would you like to see written? Maybe you want to know about how to create a good security roadmap, or see an example security policy you could use in your business.
Maybe you'd like a checklist to help you ensure your third-party providers have got all the security basics covered.
Or just something to help make your life a little bit easier.
Let us know. In return we've got three copies of Bruce Schneier's latest book, Liars & Outliers, as reviewed by Sophos' very own Paul Baccas, and we'll send a copy to the three best suggestions.
Pointing finger, courtesy of Shutterstock