For the last few days Naked Security has received enquiries from readers asking about a message that has been widely shared across Facebook.
Although the message isn't related to computer security issues, it seems to have raised enough concern that it feels appropriate to discuss it here.
The message, which is sometimes distributed with an image of what appears to be pink-coloured crystalized methamphetamine, claims that children are being targeted with drugs that taste of strawberries.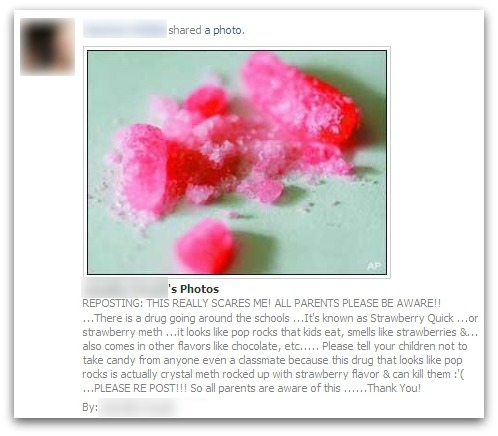 ...There is a drug going around the schools ...It's known as Strawberry Quick ...or strawberry meth ...it looks like pop rocks that kids eat, smells like strawberries &... also comes in other flavors like chocolate, etc..... Please tell your children not to take candy from anyone even a classmate because this drug that looks like pop rocks is actually crystal meth rocked up with strawberry flavor & can kill them :'( ...PLEASE RE POST!!! So all parents are aware of this ......Thank You!
The Hoax Slayer website, however, points out that the messages are highly exaggerated and inaccurate and can be dated back as far as 2007.
So, if you are forwarding this message to your Facebook friends, you are perpetuating what seems to be a baseless scare rather than providing a useful warning.
Nonsense messages like this clog up social networks just like commercial spam, wasting time and hardly helping the signal:noise ratio.
Keep your wits about you and stay informed about the latest scams, hoaxes and malware attacks spreading fast across Facebook. One of the best ways to do that is to join the Sophos Facebook page, where more than 160,000 people regularly share information on threats and discuss the latest security news.