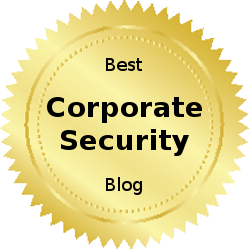 I am very proud to announce that Naked Security won an award at the Social Security Blogger Awards for the second year in a row at this year's RSA Conference.
Last year Naked Security won the Most Educational Blog, which was won this year by the Tao Security blog by Richard Bejtlich. We would like to congratulate Richard on his achievement.
Naked Security was voted as the Best Corporate Security Blog for 2012. We especially value awards from the Social Security Blogger Awards as they are only voted upon by our fellow bloggers and we are pleased they chose us once again.
Best Podcast went to Exotic Liability and Most Entertaining Blog was won by Jack Daniel of Uncommon Sense Security.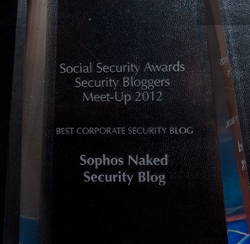 Krebs on Security was the winner for the Blog That Best Represents The Security Industry and Moxie Marlinspike won Post Of The Year for "Your App shouldn't suffer SSL's problems".
Bruce Schneier and Brian Krebs were the first two inductees into the Security Bloggers Hall of Fame (sorry Graham).
Naked Security wants to send a special thank you to Alan Shimel, Rich Mogull, Martin McKeay, Jeanne Friedman and Jennifer Leggio for working so hard to organize our community and provide this opportunity to meet one another each year.
Gold Seal vector images courtesy of Shutterstock.