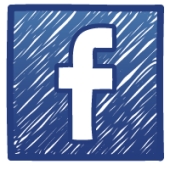 Facebook's data archive download tool seems to be having a difficult time saying goodbye.
Naked Security reader John Alarcon, who describes himself as a "very vocal" critic of Facebook and the company's "use/misuse/overuse of our data and browsing habit[s]," has been trying for weeks – quite fruitlessly – to extract his information from Facebook.
In the fall, Facebook not only cut back on the data it releases to users. It also turned to a do-it-yourself model, creating an email address (datarequests@fb.com) for people to send their data requests to.
An autoreply from that account directed users to an archive download tool.
This method has failed for Alarcon. Instead of his data archive, he consistently gets an email telling him to try again.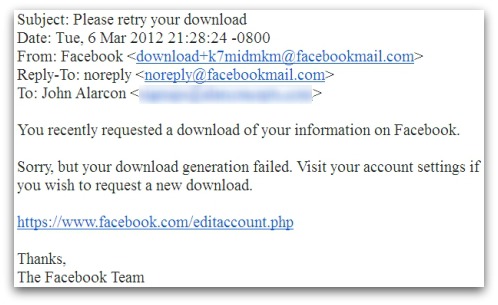 Alarcon has found that this results in an endless loop and a growing file of "failed" email responses.
He turned next to another form provided by Facebook – one that required him to send a copy of his driver's license to get at his data.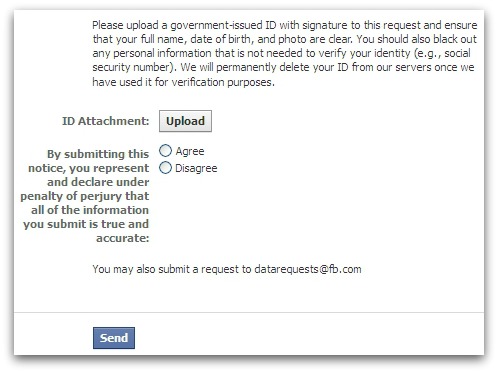 This eventually got a response from Facebook: an email containing the standard language already available on the help section of the site, instructing him to use the download tool to download his data – the same tool he had tried, unsuccessfully, to use for weeks.
It gets worse. Facebook appears to be preventing him from submitting bugs on the issue. From his account, this doesn't appear to be related to user error:
...with every bug report, you get an auto-response indicating that it was submitted. I'm no longer getting any auto-response when I submit bugs. It's not an end-user mistake in submitting the error; I've submitted many bugs and always get an auto-response, if not a direct email contact. It's also not an email lag, as my server is continuing to send and receive email from that account.
Mr. Alarcon is concerned that his inability to extract himself from Facebook might represent an attempt by the social media giant to "get back at him," given that he's an outspoken critic:
I strongly suspect Facebook has crippled my account due to my outspoken criticism. It is no secret that I intend to leave Facebook as soon as I have a copy of my data (I status'd this intent publicly) and it's sure feeling like a strange coincidence that they won't even accept a basic bug report from my account now after I've tried numerous times to use a basic feature that's seeming still working for others.
Alarcon's criticisms have been published on his profile status updates, responses to questions and discussions in his Facebook inbox, comments left on Sophos's articles posted to Facebook, comments left on friends' posts that were related to security or new features on Facebook, and various other places around the internet.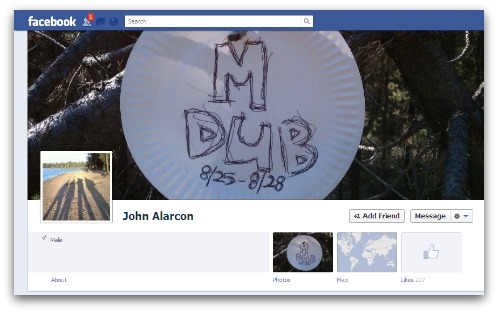 Alarcorn has removed much of his Facebook criticism, mostly due to the overwhelming number of replies/arguments he was receiving from his network. A few related posts are still on his wall.
Is Facebook acting vindictively against a critic? I doubt it. It doesn't make sense to ensnare critics by making it impossible for them to extract their data so they can shut down their accounts.
The glitchiness of data extraction makes more sense from the perspective of Facebook's financial self-interest, which lies in gluing itself to users.
After all, what's more valuable for the IPO-bound Facebook than a burgeoning user base that finds it exhausting to unstick itself? It simply doesn't make sense to create a tool that lets users easily slide off the site.
I wrote to Facebook about John Alarcon and Facebook's klunky data extraction tool. I was told they'd get back to me. That was on February 28.
I'm still waiting.
If you've got a Facebook data extraction story – was it easy? Or are you still glued in? – please share it as a comment on this article.
I'm also curious to learn whether people are finding it easy or difficult to extract their data from Google under its new guidelines. Is it a Facebook-sized headache or relatively painless?
Update: John Alarcon has been in touch with Naked Security to tell us that he has received a "succinct apology by email from the Facebook team" and is now able to download his data.