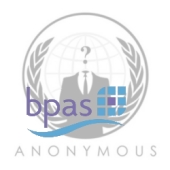 In the early hours of this morning, police arrested a 27-year-old man, suspected of defacing and hacking into the website of Britain's largest single abortion provider.
The British Pregnancy Advisory Service (BPAS) website was compromised yesterday, with a message from a hacker calling themselves "Pablo Escobar", and linking themselves to the Anonymous hacktivist group.
For a period of time yesterday, visitors to the BPAS website saw an anti-abortion message.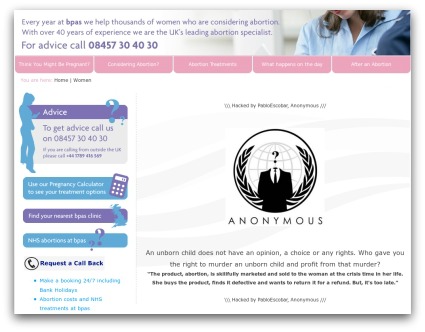 In a series of tweets, someone using the name "Pablo Escobar" claimed that the names of women who had undergone abortions had been accessed from the BPAS site, and would be released today (Friday).

It appears that the authorities moved quickly to reduce the possibility of personal details of people who had contacted the BPAS site being made public.
According to a news release by Scotland Yard, officers from the Police Central e-Crime Unit (PeCU) arrested the man, who has been linked to the Anonymous hacktivist group, at an address in Wednesbury in the West Midlands.
BPAS's website allows people to make enquiries regarding abortion, contraception, pregnancy, testing for sexually transmitted diseases and sterilisation. However, it has been stressed that no medical or personal information regarding woman who have received treatment from the charity was obtainable.
The Guardian reports BPAS as claiming that there were "about 26,000 attempts" to break into its website over a six-hour period.
Incidents like this underline the growing trend for there to be a political or ideological motivation behind cybercrime. Of course, there is still a larger proportion of attacks which are financially motivated, but there's a worrying tide of hackers who think it's okay to break the law and expose the personal information of members of the public to get their point across.