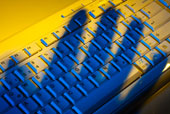 A hacker linked with the Anonymous movement has admitted to breaking into the website of Britain's biggest abortion service, and stealing the records of approximately 10,000 people.
27-year-old James Jeffery, of Wednesbury in the British West Midlands, stole the personal details of some 10,000 women from the website of the British Pregnancy Advisory Service (BPAS), and then bragged on Twitter that he would release the information to the public.
In addition, the hacker defaced BPAS's website, posting an anti-abortion message.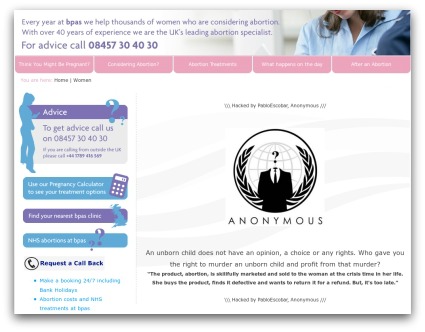 An unborn child does not have an opinion, a choice or any rights. Who gave you the right to murder that unborn child and profit from that murder?
"The product, abortion, is skilfully marketed and sold to women at the crisis time in her life. She buys the product, and wants to return it for a refund. But it's too late."
\\\ Hacked by PabloEscboar, Anonymous ///
You can imagine how traumatic it must have been for women who had made the difficult decision to go ahead with an abortion to hear that their decision might be made public knowledge by a hacker. Therefore, it was a relief to hear that the day after the hack, police had made an arrest.
BPAS's website allows people to make enquiries regarding abortion, contraception, pregnancy, testing for sexually transmitted diseases and sterilisation. However, it has been stressed that no medical or personal information regarding woman who have received treatment from the charity was obtainable – only details of those who had contacted BPAS's website.
Jeffrey told a Westminster Magistrate's Court hearing this weekend that he eventually decided against publishing the details in his possession because he thought doing so would be "wrong". He said that he targeted the British Pregnany Advisory Service because he was upset that two women he knew had made the decision to terminate their pregnancies.
Jeffery admitted two offences under the Computer Misuse Act. He was refused bail and will be sentenced at Southwark Crown Court at a later date.
The computer crime-fighting authorities should be congratulated for their swift action in this case – from crime to arrest to courtroom confession within 48 hours is pretty darn impressive.
Update: James Jeffery was sentenced to 32 months in jail in April 2012.

Shadowy hand over keyboard image courtesy of Shuttershock