Listen up, this one is serious.
There is a critical vulnerability in many versions of Windows, which could be exploited to spread a worm automatically between vulnerable computers.
Microsoft has issued a patch, urging owners of vulnerable PCs to fix their computers as a matter of urgency.
The vulnerability lies in a part of Windows called the Remote Desktop Protocol (RDP) and could allow malicious hackers to run code – without the users' permission. That's obviously much more serious than a vulnerability which relies upon a user to click on an attachment, or be tricked into running a piece of code.
The security hole affects Windows XP and all versions of Windows released since, including the developer preview of Windows 8.
The nature of the vulnerability, and the fact that it impacts such a wide range of Windows computers, makes it very attractive to attackers.
In a blog post, Microsoft predicted that an exploit would be created for the vulnerability within 30 days:
"Due to the attractiveness of this vulnerability to attackers, we anticipate that an exploit for code execution will be developed in the next 30 days."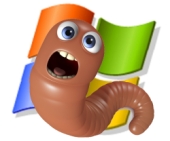 If Microsoft is prepared to say something like that, you really should sit up and pay attention.
The good news is that by default, RDP is not enabled on Windows, and if RDP is disabled you're not at risk. The bad news is that RDP has been frequently enabled by IT teams inside enterprises.
Microsoft is strongly encouraging Windows users to apply the MS12-020 security patch, but if your company cannot roll it out in a timely fashion has published information about other methods of reducing the chances of a threat impacting your organisation.
Image of worm courtesy of Shutterstock.