This morning I was surprised to see that I had two Facebook invitations from people I didn't know. They both said that the person "made you a host of the event: 2012 iPhone 5 Give away, March 15 at 2012 iPhone 5 Give away."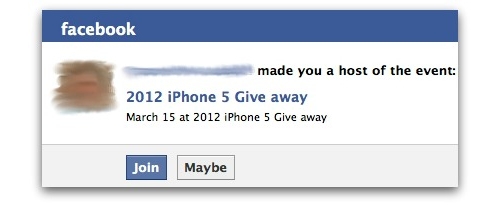 As regular readers of Naked Security will undoubtedly recognize, this is yet another Facebook scam.
For the inexperienced scam recognizer, how can you tell?
First of all, Apple has not announced an "iPhone 5" yet, and the most recent iPhone (namely, the iPhone 4S) was announced just over 5 months ago in October, making it rather unlikely that Apple would already announce its replacement.
Second, Apple has never made any product announcement – or given away free products – through Facebook.
Third, if you make the mistake of following the link to find out more, you'll be presented with a public event page claiming
"this fb page is messing up at the moment and sending out an i Phone 5 to people that are on face book for free...all they want is your thoughts and opinions about it and you can keep it forever. But you should hurry up before they close it."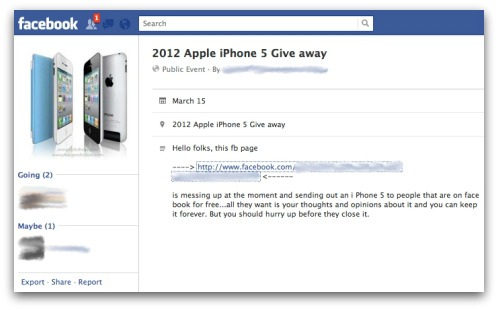 Really? A magical Facebook page is "messing up" and autonomously sending out free iPhones from the future? That doesn't quite pass the credibility test.
Don't fall for survey scams; they only waste time, lead to disappointment, and can expose your private information to fraudsters.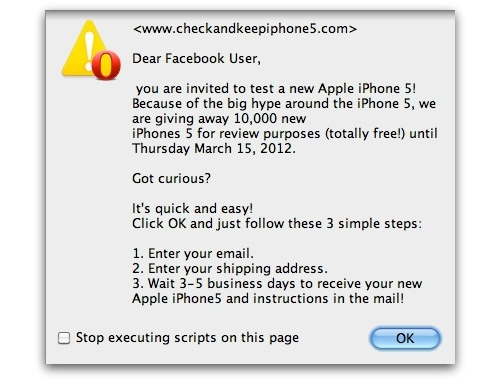 You can help your friends avoid this particular scam – and hopefully raise their awareness of similar scams – by sharing this article with your friends on Facebook.
Make sure that you keep informed about the latest scams spreading fast across Facebook and other internet attacks. Join the Sophos page on Facebook, where over 170,000 people regularly share information on threats and discuss the latest security news.
I've posted additional details and a list of domains involved in this scam at my personal security blog, JoshMeister on Security.