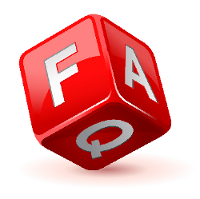 A few weeks ago while reading my daily blog feed I ran across an interesting post by Steven K on the Xylibox blog. Steven had posted a bunch of screenshots from a fake anti-virus affiliate network called Bomba Cash.
Steven was investigating a new fake anti-virus variant that calls itself "internet security". What stood out to me from his post was the fact that the people behind this malware have an entire FAQ for affiliates distributing their fake anti-virus.
I contacted SophosLabs and was able to get someone to help with translating the Russian to English and I think this FAQ provides some insight into the how these criminal networks operate.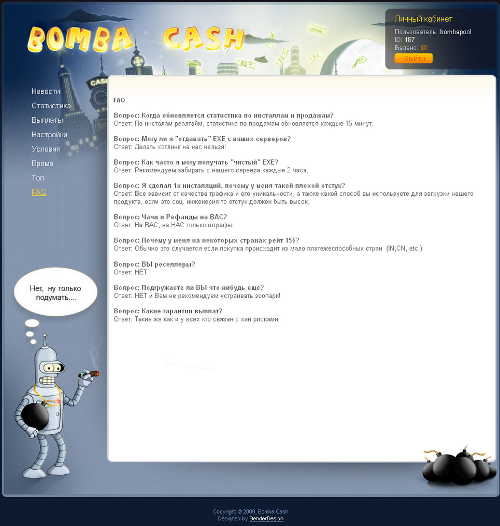 The FAQ reads as follows:
Q: How often do you update "install" and sale statistics?
A: Real-time for "installs", every 15 min for sales.

Q: Can I serve EXEs directly from your servers?
A: No, you must not.

Q: How often should I fetch a "clean" EXE?
A: We recommend that you download it from us every 2 hours.

Q: I've got 1K of installs, why is the conversion rate so poor?
A: It all depends on the quality and uniqueness of your traffic, and on the way you load our product. For example, if it's social engineering, the return should be high.

Q: Do you cover for refunds and chargebacks?
A: No, we only cover the fines.

Q: Why do I get $15 rate for certain countries?
A: This happens if a purchase is made from low-paying countries (IN, CN, etc)

Q: Are you a reseller? (Comment: some partnerka's resell services from other bigger shops)
A: NO

Q: Do you "load" anything else? (Comment: meaning if the network owners drop any other malware to an infected PC)
A: No, and we don't recommend you make a zoo.

Q: What guarantee do I have for the payments?
A: The same as you get from anyone in the high-risk business.
A few of these are quite interesting. One asks how often you should fetch a "clean" EXE. The people behind this malware are producing a new executable every two hours in the hope that this will bypass anti-virus vendor signatures.
They also mention a lower pay rate of $15 for low-paying countries. We have been seeing variations on this theme for years.
A compromised host in one country is worth a different amount to the criminals than one in another country based upon socioeconomics, available bandwidth or whatever other way they may intend to monetize their activity.
They also reference a higher sales conversion rate when fake anti-virus is installed through social engineering rather than a drive-by download. If a user is tricked into believing they are installing a legitimate security application they are far more likely to purchase the fake application.
Information like this helps us get inside the heads of these criminals and shows how they are evolving into well organized groups operating much the same way as legitimate businesses in the software space.
As long as there is money to be made using these scams there will be someone out there ready to collect the victim's hard earned money.
FAQ cube image courtesy of Shutterstock.