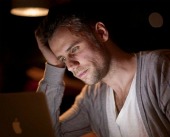 UK TV presenter Richard Bacon recently revealed he'd been a victim of an internet troll for the last two years.
In the BBC3 programme, "The Anti-Social Network", Bacon explains how his troll set up a fake Twitter account in his name and Tumblr and Facebook accounts under the title of "I hate Richard Bacon".
He also wrote about Bacon dying in a plane crash or car accident, and tweeted Bacon's wife.
Against advice, both Bacon and his wife, who recently gave birth to their son, Arthur, tried to "rationalise" with his troll.
When that didn't work Twitter took down the account, but the troll was soon back under a different name, "Dick Bacon Boom".
So Bacon started to look more into trolling, and "RIP Trolls" in particular – people who post offensive messages, pictures and videos to tribute sites and Facebook pages, set up in honour of someone who has died.
In the programme, he talks to the parents of Tom Mullaney who, aged 15, hanged himself after receiving threatening Facebook messages from 6 different people.
His brother, Ashley, set up a Facebook tribute page for people to post messages and memories. But within days defaced pictures and nasty comments appeared.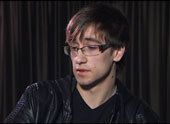 Bacon managed to contact one of the trolls, Damon Evans, who agreed to be interviewed.
In the interview Evans, 20, admitted to trolling and said he only targeted celebrities. He denied ever posting to an RIP page, but admitted he got a kick out of trolling:
"It is addictive, sometimes, when you get people going crazy at you and you find it quite funny and just keep pushing and pushing and pushing...
A few days later he got back in touch with Bacon, admitting he had lied in the interview about not posting to RIP pages. He still denied posting on Tom Mullaney's page.
I regret trolling RIP pages and that's why i didn't admit it.
Some of the reactions i got were hilarious.
Bacon speaks to a "troll hunter" in heavy disguise, calling himself Michael Fitzpatrick, who searches the internet looking for trolls.
But be careful if you retaliate, Fitzpatrick warns. If you annoy the trolls they may steal your information and start posting nasty things about you.
Indeed Naked Security's Graham Cluley found himself at the mercy of trolls, when someone using a photo of him as their profile picture created controversial groups on Facebook and used inflammatory language, leading to others posting insults about him and someone even going as far as creating a group on Facebook claiming he was a paedophile.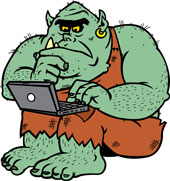 So what can we do? It's tricky. The Communications Act 2003 makes it illegal in the UK to post obscene offensive comments online, leading to a maximum sentence of 6 months in prison. But only two trolls have ever been convicted under this act.
There's some advice here about how to deal with internet trolls. The most important thing: don't respond to the posting, just block the troll. Don't give them a reaction and don't get into an argument with them. You're only fuelling their fire. Report them to the internet site you're using.
And if you're setting up an online tribute site, don't make it open to the general public but request that people ask permission to join it.
Richard Bacon never did manage to track down his troll. He took the advice of two experts and reported it to the police. When I logged on to Twitter earlier the Dick Bacon Boom account had been suspended.
So where do you draw the line? Where does freedom of speech become trolling?
If you can access BBC iPlayer, you might want to watch the programme.