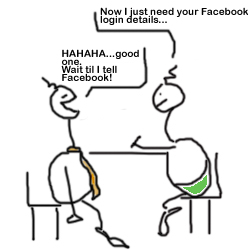 Last week, Naked Security wrote about employers requesting interview candidates to hand over their Facebook usernames and passwords.
This topic riled a lot of people, including Facebook.
Erin Egan, Facebook's chief privacy officer, issued a statement on Friday. He writes:
...we've seen a distressing increase in reports of employers or others seeking to gain inappropriate access to people's Facebook profiles or private information. This practice undermines the privacy expectations and the security of both the user and the user's friends. It also potentially exposes the employer who seeks this access to unanticipated legal liability.
Mr Egan also says Facebook will take action to "protect the privacy and security of [its users], whether by engaging policymakers or, where appropriate, by initiating legal action…"
So, I think we can agree that this is a pretty strong statement. And Facebook isn't alone. As mentioned last week, The American Civil Liberties Union (ACLU) maintains that people have a right to private lives. And now, US Government officials are also jumped into the debate.
US senators Chuck Schumer of New York and Richard Blumenthal of Connecticut have asked Attorney General Eric Holder to investigate whether federal laws are being violated if an employer requests a Facebook password during a job interview, according to Fox News.
The fact that this discussion is attracting some big players will be welcomed by many of our readers.
A quick and dirty Naked Security poll showed that a whopping 91% of the 3500+ readers who took part say that it should be illegal for companies to request access to your personal Facebook account.
So well done to everyone who stamped their feet in protest. It seems the right people are hearing you loud and clear. Let's hope that a statement is issued very soon to clear these muddy waters.
Check out our Facebook page, where more than 170,000 people share information on widespread threats.