A man who hacked into the email accounts of female celebrities, and uncovered naked pictures of starlets including Scarlett Johansson, Mila Kunis, Christina Aguilera and Vanessa Hudgens, has agreed to plead guilty at a Los Angeles federal court later today.
35-year-old Christopher Chaney, was arrested last year in an FBI operation dubbed "Operation Hackerazzi".
Famous victims of hacking have included Scarlett Johansson, "High School Musical" star Vanessa Hudgens, Christina Aguilera, Lady Gaga and Miley Cyrus.

In all, more than 50 victims have been identified by the authorities.
Chaney is said to have searched the internet for information about his victims, which then helped him gain control of their email accounts. Once he had accessed celebrity email accounts, he changed their settings to automatically forward messages to an account under his control – even if the original owner changed their password.

Chaney has previously described how his reading of stars' private messages and access to private photos had become an addiction. He admitted forwarding many of the photographs to gossip websites and another hacker, but no evidence has surfaced that he profited financially from the hacking.
Clearly, Chaney is the one to blame here – and he could face a significant jail sentence for his crimes.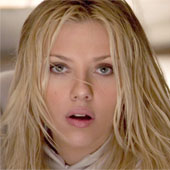 But you can't also help but wonder whether some of these young female actresses and singers weren't also acting naively when they shared intimate photographs with their loved ones on the net. (Scarlett Johansson, for instance, has gone on the record as saying that the private naked photographs she took of herself in her bathroom were intended for ex-husband Ryan Reynolds.
Whether you're a famous film star, or a regular civilian, it's probably wise to think of the worst possible outcome if you ever use the internet to transfer a nude photo or a sex video of yourself.
Furthermore, shouldn't the gossip websites who republished the private photos of the stars also be held to account? They can't possibly have thought that the images weren't anything other than stolen property.