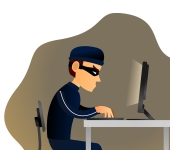 The Dutch High Tech Crime Team has arrested a 17-year-old man for accessing customer account data on servers run by KPN, one of the largest ISPs in The Netherlands.
The arrest took place in Barendrecht, about 100 miles south of Amsterdam.
Police also took an encrypted computer, two laptops, hard drives, DVDs and USB sticks, according to PC World.
The teen hacker, using handles such as xS, Yoshioka and Yui, bragged about his KPN exploits online to students from the Korea Advanced Institute of Science and Technology (KAIST), reported the Telecompaper.
The young hacker is also suspected of hacking computers at KAIST and at Trondheim University in Norway, as well as breaching security of Tokohu University in Japan, says PC World. He is also thought to have been running a website used for selling stolen credit card data.
The Dutch police reportedly collaborated with the Cyber Terror Response Center in South Korea and the Australian Federal Police.
Spokesman for the Public Prosecution Service, Wim de Bruin, said "the maximum penalty the teenager faces is two years in prison. The maximum penalty is reduced due to his age." reports Network World.
This arrest is unrelated to the January hack where KPN took 2 million email accounts offline as a precautionary measure, reports MarketWatch.