A website beloved by old-school virus writers has been raided and closed down by the Ukrainian police.
A message on the front page of the VX Heavens website, which used the motto "Viruses don't harm, ignorance does!", says it all: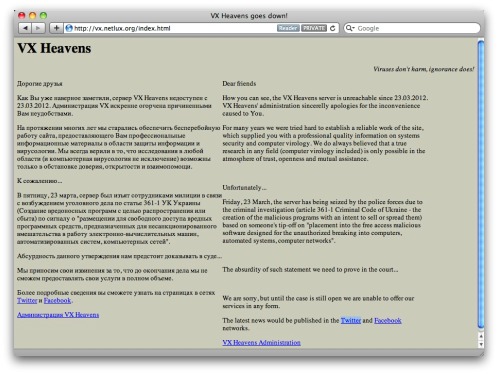 Part of the message reads:
For many years we were tried hard to establish a reliable work of the site, which supplied you with a professional quality information on systems security and computer virology. We do always believed that a true research in any field (computer virology included) is only possible in the atmosphere of trust, openness and mutual assistance.

Unfortunately...

Friday, 23 March, the server has being seized by the police forces due to the criminal investigation (article 361-1 Criminal Code of Ukraine - the creation of the malicious programs with an intent to sell or spread them) based on someone's tip-off on "placement into the free access malicious software designed for the unauthorized breaking into computers, automated systems, computer networks".

The absurdity of such statement we need to prove in the court...

We are sorry, but until the case is still open we are unable to offer our services in any form.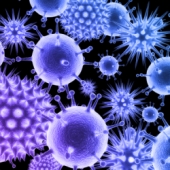 The website, which described itself as "dedicated to providing information about computer viruses (virii) and web space for virus authors and groups", has been running for many years.
The site prided itself on sharing virus-writing tutorials, malicious code samples and articles for those interested in creating computer malware.
"VX", for anyone who wasn't aware, is dude-speak for "Virus eXchange".
The folks using the VX Heavens website were probably not in the same league as the financially-motivated organised criminals computer users are often troubled by today, and mirror rather more the hobbyist malware authors of yesteryear.
Nevertheless, it's clear that the Ukrainian authorities didn't like what they saw and have confiscated the website's servers in their hunt for evidence of criminality.
Let no-one be under any illusions. Malware creation and distribution of viral code has become a big concern for the-powers-that-be. It's not a game anymore – if you play in this area, don't be surprised if the authorities take a dim view.
Image of virus from Shutterstock.