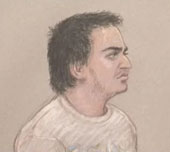 Ryan Cleary, the British teenager whose arrest made international headlines last year linking him to the notorious LulzSec hacking gang, is back behind bars after breaching his bail conditions.
According to reports, Cleary – who has been charged with launching distributed denial-of-service attacks against the likes of the Serious Organised Crime Agency, the International Federation of the Phonographic Industry (IFPI) and the British Phonographic Industry (BPI) – breached his bail conditions by accessing the internet over Christmas.
And who is he said to have contacted on the net? None other than LulzSec leader Hector Xavier Monsegur (alias "Sabu").
Ironically, Sabu was recently revealed to have betrayed LulzSec members, and associated Anonymous hacktivists, by secretly working for the FBI for many months.
It now transpires that the authorities re-arrested Cleary on March 5th, the day before the news that Sabu had been working secretly for the authorities was made public.
Cleary's solicitor, Karen Todner, says that her client is being held in Chelmsford Prison.
It has been claimed that Cleary suffers from Asperger's syndrome, and there have also been suggestions that he had a difficult childhood.
Image credit: BBC