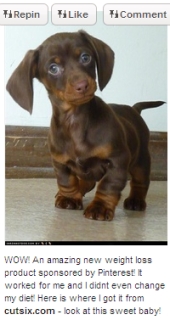 Unless Pinterest gets serious about preventing spammers from abusing its systems, the problem is just going to get bigger and bigger.
Today, for instance, we're seeing Pinterest posts promoting an "amazing weight loss product".
The posts claim that the product is sponsored by Pinterest themselves, and doesn't seem to care whether it uses an image of cute puppy, a woman's skinny midriff, chicken parmesan bake, bikini-clad models or multi-coloured cocktails to promote a link to a diet website.
It's not clear at this time whether the accounts of Pinterest users have been compromised by the spammers or whether the accounts have intentionally been set up by spammers to distribute their unwanted advertising messages.
But clearly this isn't the kind of thing that Pinterest users joined the social network to see.
Here's just a small selection of the many spammy posts on Pinterest right now: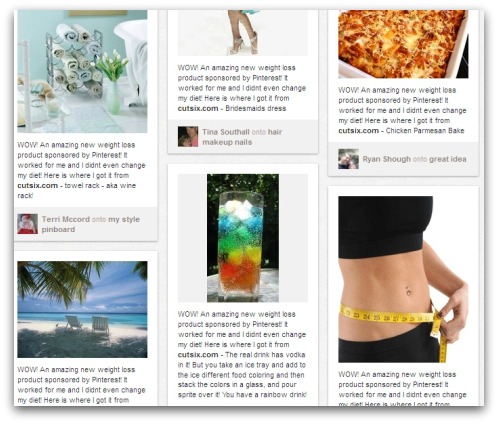 WOW! An amazing new weight loss product sponsored by Pinterest! It worked for me and I didnt even change my diet! Here is where I got it from [LINK]
The messages are typically followed by what appears to have been the original message posted alongside the image. For instance, the image of the cocktail has the spammy text followed by:
The real drink has vodka in it. But you take an ice tray and add to the ice different food coloring and then stack the colors in a glass, and pour sprite over it! You have a rainbow drink!
It may be that the spammers are doing this to make each post different, and perhaps make it more difficult for Pinterest to eradicate the offending messages.
What is clear is that clicking on the link takes you to a website promoting an Acai Berry diet.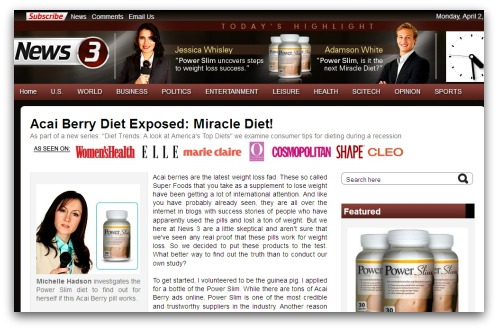 We've seen similar Acai Berry websites promoted multiple times in the past by spammers, who earn commission from driving traffic in the direction of the fruity dieticians.
Users of Pinterest would be wise to take care over their accounts, and think carefully about what they repin and what links they click on.
As we've warned before, if Pinterest continues to grow, more and more spammers and cybercriminals will be tempted to exploit the website's userbase.
(By the way, you can follow Naked Security on Pinterest if you like).