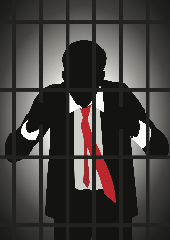 It is nice when the good guys get a win.
Edward Pearson, a UK-based 23-year-old from York, had grand plans to make his fortune by stealing from individuals and companies through hacking and information-stealing malware.
Between January 1 2010 and August 30 2011, he used of malicious computer programs to get his hands on – wait for it – eight MILLION personal identities.
He used Trojans such as Zeus and SpyEye, to hunt down personal details on the internet, says the Daily Mail.
These details include stolen Paypal accounts, 2,701 bank cards, not to mention "enough dates of birth, postcodes and names to fill 67,500 double-sided A4 pages," reports York newspaper The Press.
"One of his programs scanned through 200,000 accounts registered to online payment service PayPal – identifying names, passwords and current balances." according to the Daily Mail.
Luckily, Pearson got caught after only making a £2,400 ($3,800 USD). The authorities estimate he could have walked away with as much as £800,000 ($1.3M USD).
Authorities were alerted to the problem when his 21-year-old girlfriend, Cassandra Mennim, used stolen credit cards to book rooms at the upmarket Cedar Court Grand and Lady Anne Middleton Hotels. Investigators looking into the case eventually identified him as G-Zero on hacking forms, according to The Mail.
Southwark Crown Court in London jailed Pearson for 26 months, after he admitted to fraud charges.
The Mail reports that Pearson also hacked into Nokia's internal network and copied the details of over 8,000 members of staff. Weeks of disruption ensued at the telecommunications' giant.
In August 2011, Nokia warned that Developers of Nokia apps that their information may have been stolen by hackers, after a security breach on the official developer.nokia.com/community discussion forum.
What can you do to avoid being a victim
Let this be a small reminder. You can blame a third-party for being hacked or insufficiently protected against a computer attack, but you will face quite a hassle to recuperate your losses if your details are stolen.
Remember to use different passwords for all your accounts. Consider using an encrypted password manager like LastPass and KeePass which provides invaluable help in managing dozens, nay hundreds, of usernames and passwords.
Use strong passwords. This means a combination of characters, symbols and numbers to prevent dictionary attacks from guessing your passwords.
And if you hear that a service or provider you use has been hit, change your password as soon as you are alerted.
Listen to this podcast for some great password advice.
Man in jail image courtesy of Shuttershock