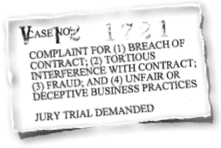 Twitter has taken its fight against on-line spam to the courthouse.
The instant messaging powerhouse filed documents last Thursday in the US District Court in San Francisco.
This brings civil action against a raft of defendants who, says Twitter:
* Distribute software tools [which are] designed to faciliate abuse of the Twitter platform and [are] marketed to dupe consumers into violating Twitter's user agreements, or
* Operate large numbers of automated Twitter accounts through which they attempt to trick Twitter users into clicking on links to illegitimate websites, again in violation of Twitter's user agreement.
One of the websites operated by the defendants was the uncompromisingly-named TweetAttacks.
At the time of writing, the site had contracted to a basic holding page containing a 1×1-pixel icon.
But on-line promotions are still forthcoming with information about the shuttered site.
MoneyMakerGroup describes TweetAttacks as the ultimate twitter auto follower, auto unfollower, tweet scraper, reply generator, auto retweeter, tweet spinner and tweet scheduler.
Build Success Online enumerates TweetAttack's strengths in a neat list of selling points, notably that it can automate Twitter marketing without getting noticed and protect your account from getting banned.
Other sites explicitly mentioned in the lawsuit are TweetAdder and TweetBuddy.
(TweetAdder is still alive, and still offering to get you 250 followers as part of a free trial. The company graciously offers that it "won't even ask you to remove all the targeted followers you gained" if you decide not to purchase.)
I wish Twitter all the best in this lawsuit.
Taking a public stand against those who abuse our goodwill online by bombarding us with unsolicited and unwanted messages, and against those who offer software and services to make this sort of bombardment easy, is to be commended.
While we wait to see what happens in this case, here are some tips to keep you and your online friends out of harm's way:
* Check your Twitter account for rogue applications which let the crooks spam out messages in your name.
* Let friends know if they're tweeting you with offers, prizes, contests and the like which you find hard to believe they'd actually endorse themselves.
* Be wary of recently-created Twitter usernames which are already following a large number of people. That's not a natural pattern of Twitter use.
* Report spammers directly to Twitter. It's easy – you do it directly from the offending account's profile page.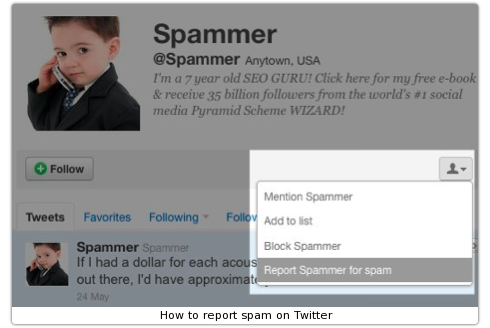 –