When The Boston Phoenix was researching an article about the manhunt for the notorious "Craigslist killer", they were granted access to all the case files released by Boston Police Department.
Among transcripts of interviews, crime scene photos and recordings, was – in printed form – the entire Facebook account of the suspect, Philip Markoff.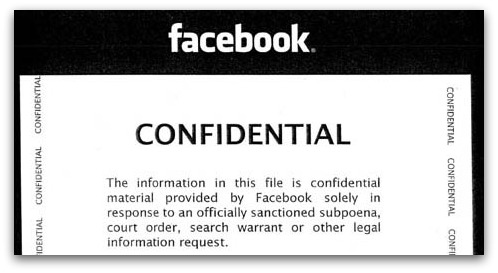 From Markoff's wall posts, photos he had uploaded and been tagged in, to his Facebook friends and a list of IP and login information that detailed the photos, groups and even the individual profiles Markoff had visited. You might say that the data released by the police subpoena of Facebook is extensive…
Here's what Facebook says about working with law enforcement: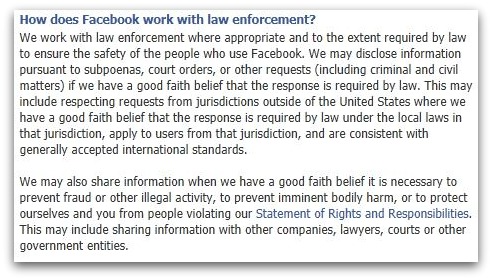 According to a The Boston Phoenix blog entry, Boston Police decided to release the printed-out data collected from Facebook without redacting any information.
Which meant that Markoff's online friends risked having their Facebook details, including their names, photographs, and conversations made public.
Fortunately, The Boston Phoenix obscured the names of individuals when it published the Facebook data. We've gone one step further in the example screenshot below, and also obscured the faces in a photograph.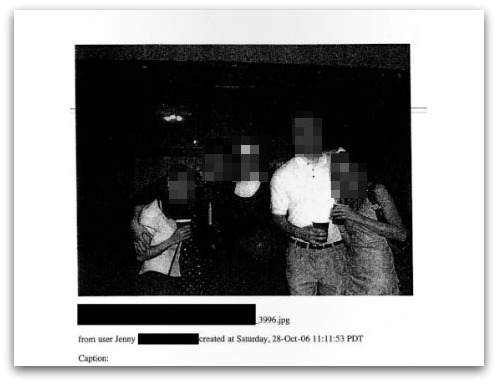 You cannot help but feel sorry for Markoff's innocent friends and associates, who presumably knew nothing of his crimes, and yet could have ended up having their personal information exposed. We know the police do a fantastic job, and hats off to them for the investigation which led to the arrest of Markoff, but they do need to careful with the data they share.
The Boston Phoenix has published some of the information they looked at online.
It's scary to see how comprehensive it is, and further illustrates just how much information Facebook holds about you.
Now, it's not like Facebook go around releasing this kind of information willy-nilly, but it shows just how much the bad guys would be able to access should they – eek – hack into Facebook's servers.