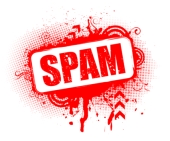 The experts at SophosLabs have released their latest "dirty dozen" report detailing the world's top spam-relaying countries – and we've discovered that in the space of a year, India has overtaken the United States to become the top global contributor to the junk email problem.
If you have a spam in your inbox, there's an almost one in ten chance that it was relayed from an Indian computer.
The top twelve spam relaying countries for January – March 2012
| | |
| --- | --- |
| 1. India | 9.3% |
| 2. USA | 8.3% |
| 3. S Korea | 5.7% |
| 4= Indonesia | 5.0% |
| 4= Russia | 5.0% |
| 6. Italy | 4.9% |
| 7. Brazil | 4.3% |
| 8. Poland | 3.9% |
| 9. Pakistan | 3.3% |
| 10. Vietnam | 3.2% |
| 11. Taiwan | 2.9% |
| 12. Peru | 2.5% |
| Other | 41.7% |
The vast majority of spam comes from home computers that have been compromised by hackers, and commandeered into a botnet. Remote hackers can send spam from recruited computers, as well as potentially steal information or install other malicious code.
The good news is that overall throughput of global email spam messages has decreased since Q1 2011.
This is partly because of better work by ISPs around the world, but also reflects a change in tactics by cybercriminals. Spammers are increasingly finding traditional email spam ineffective, turning to social networks to spread these kinds of marketing spam campaigns instead.
Facebook and Twitter have for some time been targeted with campaigns but, most recently, hot new social network Pinterest has been used by spammers to distribute posts linking to webpages offering to sell goods, or earning commission for the spammers.
While basic marketing spam decreases, the number of messages that spread malware or that represent more targeted attempts to phish usernames, passwords and personal information is increasing.
The latest stats show that, as more first-time internet users get online in growing economies, they are not taking appropriate measures to block the malware infections that turn their PCs into spam-spewing zombies.
Don't allow your computer to be a contributor to the global spam problem. Defend it with up-to-date anti-virus software, and take care over the links that you click on and the software you install.
Spam image, from ShutterStock