Have you seen a message on Facebook saying that free pairs of Ray-Bans or TOMS shoes are being given away to users?
Don't believe it.
The messages, which have become widespread, actually point to scams.
Here are some of the messages that are being seen on unsuspecting users' Facebook walls:

Get a Free Pair of Ray-Bans! (limited time only)!
Current Limited offer

To Celebrate the Summer, We are Giving Away Free Ray-Bans to All Facebook Users!

Get a Free Pair of Toms Shoes! (Limited Time Only)!
Current Limited offer

To Celebrate the Summer, Toms is currently giving away FREE pairs of shows to select facebook users for a limited time!
If you click on the links you will be taken to pages which try to trick you into sharing the link further amongst your Facebook friends. People's excitement over the possibility of a free pair of Ray-Bans sunglasses or a pair of shoes outweighs their common sense it seems.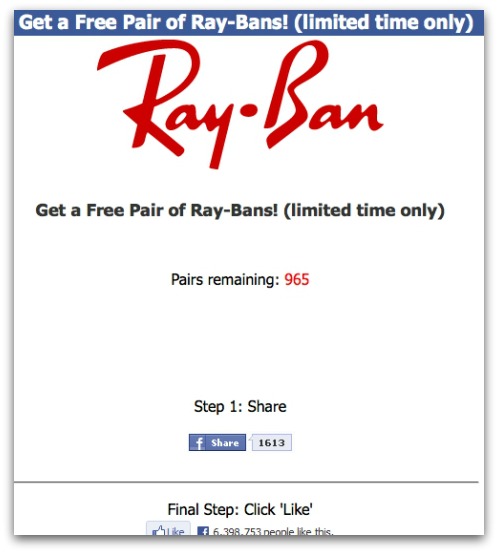 Before you know it, you're being taken to webpages that ask you to hand over your personal information or take part in an online survey.
The truth is that you're never going to receive that free pair of shoes, or be sporting some Ray-Ban sunglasses. The fraudsters who started spreading the links in the first place earn commission every time they trick someone into completing an online survey.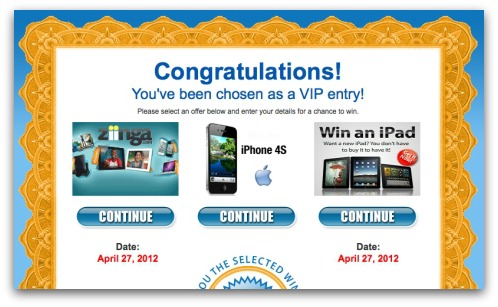 In some cases they might even ask you to enter your mobile phone number, and then sign you up for an expensive premium rate service.
So be on your guard!
If you were fooled into participating in this scam remove the message from your newsfeed, and delete any messages you may have inadvertently shared with your friends. That way at least you are no longer spreading it with your online chums. You can also report the link as spam – hopefully if enough people do it, Facebook will stop the scams from spreading further.
Make sure that you keep informed about the latest scams spreading fast across Facebook and other internet attacks. Join the Sophos page on Facebook, where over 170,000 people regularly share information on threats and discuss the latest security news.