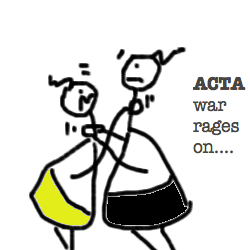 It is starting to feel like no matter how many rounds of criticism the Anti Counterfeiting Trade Agreement goes through, it just keeps bouncing back.
In recent weeks, institutional condemnation of ACTA appeared to reach critical mass. First, Member of the European Parliament David Martin released a recommendation that the Euro Parliament should reject the agreement.
This is a big deal. He's the Rapporteur who is chairing the International Trade Committee that is tasked with deciding the fate of ACTA in the Parliament.
While he is aware of the importance of intellectual property as a 'raw material' in Europe, he still decided the civil liberty implications of ACTA outweigh any benefits the law brings for IP protection.
He has many criticisms, a few of the big ones include:
ACTA treats physical counterfeit goods (like drugs) the same way as digital pirated goods, which is inappropriate when the risks they pose are wholly distinct.
Broad drafting of terms in ACTA might lead to ambiguities in how they are applied. A good example is the meaning of piracy on a 'commercial scale', which remains undefined and open to wide interpretation.
Requiring states to work with companies to develop enforcement mechanisms might see ISPs becoming internet police for IP piracy. Rightly, he sees privatising a function that should be overseen by courts as unacceptable.
ACTA was negotiated in secret by an exclusive 'coalition of the willing' with a pro-IP agenda. This neglects multilateral interests of third parties who are still impacted by the law.
Since then, another EU heavyweight has added its voice to the anti-ACTA fight.
The European Data Protection Supervisor (EDPS) released an opinion saying that widespread, indiscriminate monitoring of internet users to stop 'trivial, small scale, not for profit infringement' is disproportionate and breaches fundamental EU privacy rights.
They are also concerned about the lack of due process safeguards and absence of a presumption of innocence.
All this criticism has led many to believe ACTA is dead in the water.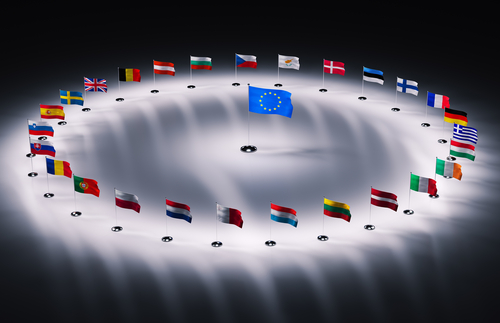 However, the picture in Parliament is quite surprising, with very little separating the ACTA opposition from the supporters.
European Digital Rights (EDRI) has calculated that 52.5% of the Parliament opposes ACTA whilst 47.5% are still in favour.
They say this means only 20 MEPs need to be swayed either way for drastically different outcomes.
In terms of formal European legislative process, four committees are feeding opinions to the Parliament on ACTA. Currently two are still in favour, and two are against.
Add the extensive industry lobbying, spearheaded by the European Commission, to the mix, and it becomes really difficult to predict what will happen next.
For ACTA to pass, it has to be adopted as it stands or the Parliament must reject it. They cannot change terms. If they do, they still have to reject the current version and go back to the other signatories, like the US, Japan and Australia, to negotiate changes.
To my mind, the sheer volume of legitimate criticism should be clear grounds for rejecting the text entirely. However, the political wrangling is succeeding in keeping the agreement on the negotiation table.
EDRI has said the strength of the pro-ACTA lobbying effort is such that any complacency of the anti-ACTA movement could be fatal, and the text passing into law is still a real prospect.
With so much tussling going on, it seems calls of victory from either side are premature.
Image of EU flags courtesy of Shutterstock
Image of fighting cartoon figures courtesy of nakedsecurity.sophos.com