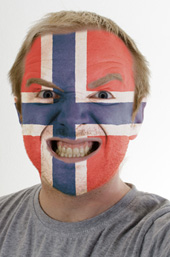 Two teenagers have been arrested in Norway in connection with a series of distributed denial-of-service (DDoS) attacks against websites in the country, and elsewhere around the world.
Norway's National Criminal Investigation Service (NCIS) has refused to go into much detail of which websites were targeted by the attacks, but news reports have suggested that victims are believed to include the Norwegian Lottery, the Norwegian Police Security Service, the Norwegian bank DNB, Germany's Bild Magazine, and the UK's Serious Organised Crime Agency (SOCA).
SOCA was hit by a high profile denial-of-service attack last week, preventing internet users from reaching it.
The motivation for the attacks is presently unclear.
The arrested teenagers, who have not been named, are aged 18 and 19 years, and are said to have launched the attacks over a period lasting "several weeks", flooding websites with unwanted traffic to such an extent that legitimate visitors would find them inaccessible. In simple terms, a DDoS attack is the equivalent of "15 fat men trying to get through a revolving door at the same time" – nothing can move.
If found guilty, the teenagers could face a maximum sentence of six years in jail.
Once again, it seems worth reminding computer users that participating in a denial-of-service attack is against the law, and is not viewed leniently by the authorities.
Norwegian face painting image, courtesy of Shutterstock.