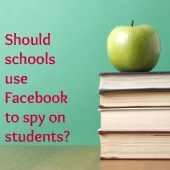 In the choppy wake of employers requesting access to job candidates' Facebook accounts, a new contentious issue bobs to the surface: should schools use Facebook to spy on students.
The principal at Missouri's Clayton High School, a Louise Losos, didn't see a problem with it.
She created a fictitious identity under the pseudonym Suzy Harriston, using a stock photo of some penguins as her image. Losos then used this account to befriend students, managing to rack up about 300 Facebook pals.
But her social media mask was publicly ripped off last month by former student Chase Haslett, who wrote

Whoever is friends with Suzy Harriston on Facebook needs to drop them. It is the Clayton Principal.
Ouch. Those school hallways must have been positively buzzing when this bomb dropped.
The accusation led to the fake Suzy Harriston profile swiftly disappearing, reports local news site, stltoday.com. The very next day, an announcement was made that Principal Losos would begin a leave of absence the following Monday.
Last Friday night, Losos announced her resignation, effective June 30.
The district said the administration and Losos "had a fundamental dispute concerning the appropriate use of social media."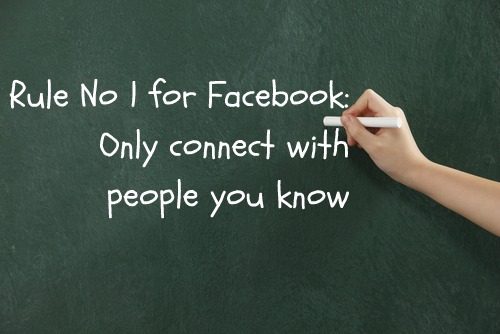 While the soon-to-be former principal of Clayton high school did not steal any student's identity–no Suzy Harriston has ever been enrolled at the school–she certainly did falsify her identity and reach out to students.
And with 1000+ students enrolled at Clayton High School, it isn't surprising that they didn't twig that this was a made-up profile.
Of course, it is possible that she did this simply to protect her academic charges. She might have been able to use her insider knowledge to steer students away from discussing dangerous or illegal plans of action. Or, she perhaps wanted to keep a better eye on cyber bullies and/or their victims.
But even if all these good intentions are true, something smells a bit nasty here. Losos's actions seem to shout out that it is ok for her to spy on kids who attend her school.
I imagine any kid that befriended her via Facebook feels betrayed.
Even Facebook would frown upon her actions, as its terms and conditions clearly state:
Facebook users provide their real names and information, and we need your help to keep it that way....You will not provide any false personal information on Facebook, or create an account for anyone other than yourself without permission.
What next?
The battle of how organisations are to handle social media implications is by no means over. But some people are trying to proactively address it by setting guidelines.
New York's Department of Education has recently issued social media guidelines, reported Forbes.
Basically, it tells teachers to divide their professional and personal lives online, maintaining separate professional and personal social media presences.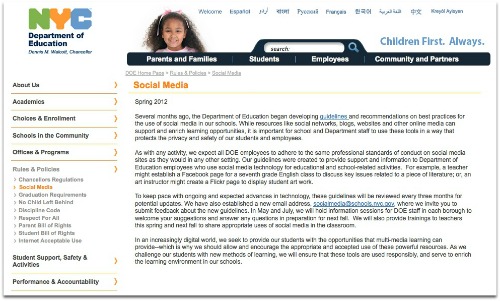 But beware, Facebook doesn't want people to have more than one account: "You will not create more than one personal profile" say the company's terms and conditions.
The professional accounts will be monitored and should be run like, well, classrooms. The personal ones will not be monitored–well, not officially at least.
While I like that New York's DOE is thinking about the complexities of social media, it will be interesting to see whether this approach is effective long term.
After all, professional and personal boundaries have been seriously blurred with the onslaught of the internet and social media.
Institutions are a product of their employees, warts and all. They always have been, but perhaps it is time to remove the institutional veneer as the cracks are most definitely showing.
So if people in positions of responsibility want to interact with employees or students via social networks, they should do so openly and honestly. Otherwise, they risk ending up embarrassed, discredited, and maybe even jobless.
blackboard image courtesy of Shutterstock
books with apple image courtesy of Shutterstock