US neurosurgeon and low-carbohydrate diet guru Dr. Jack Kruse found himself unceremoniously plucked off a cruise ship and deposited on the shore after a tweet including his name mentioned a bio-terrorist attack against the ship.


According to NewsChannel 5, in Tennessee, the Nashville, Tenn., doctor was supposed to deliver a talk about the benefits of a low-carbohydrate diet aboard the Carnival Cruise ship Magic.
Magic was scheduled to sail from Galveston, TX Sunday afternoon, NewsChannel 5 reported.
That changed when Galveston police knocked on Dr. Kruse's cabin door prior to the ship's departure.
Police asked him about tweets that he had sent but "wouldn't tell me any of the data around the tweets," Kruse told NewsChannel 5.
Later, Kruse was told that the cruise line had been tipped off to a suspicious tweet several hours earlier. The tweet tied Kruse to a bio-terrorism attack on the boat.
NewsChannel 5 reported that the tweet came from the account @shitkrusesays. It read:
security confiscated dynamite. talk won't be as explosive as one at PaleoFx. still have vial of Legionnaires for epic biohack. #lccruise12.
The @shitkrusesays account, apparently, has since been disabled. Kruse has said that he has no connection to the account.
Investigators searched Kruse's stateroom and his electronic devices. Kruse told NewsChannel 5 that they "fairly quickly" determined he wasn't planning an attack on the boat.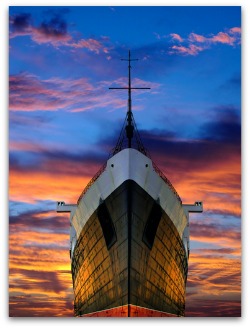 Regardless, after an FBI special agent in charge spoke with the ship's captain, Carnival Cruise security removed Kruse's luggage from the ship and escorted him back to shore.
According to Kruse's account, the FBI agent, Homeland Security and the Coast Guard all seemed to glean that he was the victim of an error and told Carnival Cruise just that.
A Carnival Cruise spokesperson responded to inquiries by sending a statement to NewsChannel 5 explaining that all security threats are "taken seriously and fully investigated."
Since the investigation was ongoing, the statement said, and the ship had to get under way, it was "in the best interest of all guests and crew to err on the side of caution and not allow him to sail," Jennifer de la Cruz wrote in the statement.
Kruse told NewsChannel 5 that the FBI, which declined to comment, is investigating the origin of the threatening tweet, which was sent in his name. The doctor was told that agents had made progress in their investigations.
That's not surprising. Searching Twitter for @shitkrusesays reveals plenty of tweets from users who seem to know who the guilty party is.
Kruse was also told that a conviction for this type of crime could carry a prison sentence of 10 to 20 years.
If anything, Dr. Kruse's Twitter scrape reveals one of those corners of the Internet where interesting things—in this case, passionate people, carbohydrates and bananas—get all smushed together.
One of the tweets I came across when trying to find the bogus one (Kruse's Twitter handle is @DigiSurg):
@AskBryan: We donate dozens of bananas to the kids. If no one else at least Durian Rider would be impressed. Certainly not @DigiSurg though.
And some responses to his blogging, included in a post titled Aren't You Going To Respond To The Negative Attacks Against You?:
@livinlowcarbman Your so fat and regaining like a mad man. How can you look yourself in the mirror while preaching LC? Sniff what U shovel.
What's the tie-in to security, here? Dr. Kruse's Twitter feed wasn't actually hacked. His name was simply tied to a fraudulent, terror-related tweet.
Of course, there's nothing "simple" about it when your travel plans are so abruptly upended.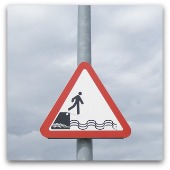 One would hope that the bogosity of the perpetrator's action would be glaringly obvious. After all, who would tweet a legitimate terrorist attack with a name attached to it?
Beyond that, who would take at face value anything from an account that's specifically dedicated to undercutting somebody, as is any account that's couched in the naming convention of "@shit[Fill In Name Here]says"?
Evidently, not the FBI or Homeland Security. If anything, the incident reflects well on the agencies, given that agents advised Carnival Cruise that it all looked fake.
What it says about Carnival Cruise Lines is another matter. But let he who isn't responsible for the safety of passengers and crew throw the first stone.
cruise ship courtesy of ShutterStock.
water danger sign courtesy of ShutterStock.