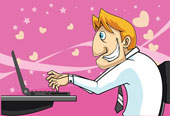 A recent report about internet crime finds that lonely, middle-aged or elderly people, mostly in the US, are suckers for a good romance scam.
We – and when I say "we", I mean "people who aren't me", because I lost nothing to online dating in 2011 but did gain a really nice red umbrella on a first date – thought that we were dating decent, nice people, and we accepted the flowers, the poetry, and the declarations of undying love..
..and it all wound up costing us a total of $50.4 million.
That's the total reported losses from a collection of 5,663 romance-specific complaints. On average, each victim reported a loss of $8,900.
Victims forked out, typically, for airline tickets or to supposedly help out their newfound love.
The numbers come from the Internet Crime Complaint Center (IC3) in the US, a partnership between the National White Collar Crime Center, the US Department of Justice's Bureau of Justice Assistance and the FBI.
Last year, the IC3 received romance scam-related complaints at a rate of 15 a day, at a daily loss of about $138,000, or more than $5,700 an hour.
How, you may well ask, did the IC3 come up with those numbers?
The IC3's 2011 Internet Crime Report is based on the 314,246 total complaints the center received last year.
Out of that number, 115,903 complaints reported financial loss for a reported total loss of almost $500 million.
The report says that the IC3 staff review any complaints that claim a loss of more than $100,000.
Which makes it sound like they're taking it on faith when a complainer says he lost less than $100,000.
That's a lot of faith! I'd take the IC3's numbers on faith, too, except I just noticed that the report says that FBI-related scams were the most reported
offense, followed by identity theft and advance fee fraud, but the numbers in its pie chart on page 10 show that work-from-home scams clocked in at 17,352, and FBI scams clocked in at 14,350, so my head's all scrambled and my faith is shaken.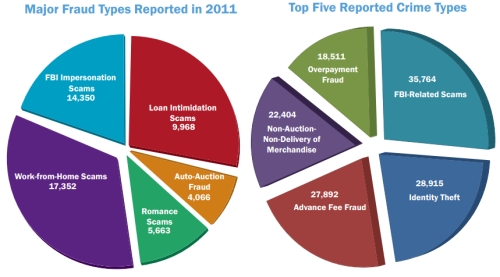 I put in a call to the IC3, so if I hear back, I'll update the story, because mixed-up numbers will jeopardize my brilliant plan, which is to combine the top scams into a hybrid super-scam.
Any criminal entrepreneur can see that they should be combining these two money-makers and running FBI romance scams. Or perhaps work-from-home romance scams. Or even work-for-the-FBI-from-home-for-a-really-hot-FBI-boss-who-secretly-loves-you scam.
They'd rake it in, since FBI agents have a tendency to look like super agent Jason Bourne, aka Matt Damon, all buff and square-jawed.
Just take a look at the video in this article. It shows FBI agents sneaking a server back after they maybe glued some tracking software into its innards.
After seeing the buffitude of the agents therein, you'll surely agree with the reader who commented that he/she would appreciate romancing, or something along those lines, from such an FBI agent:
"Anyone got the name/number of MIB there? He looks HOT - he can install a trojan in my back door any day."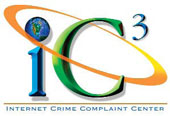 On a more serious note, regardless of the IC3's head-scratching numbers, it can't be denied that people are getting scammed.
Victims get ripped off because they're lonely, or perhaps they get taken in by loan-intimidation scammers armed with accurate information, such as the victim's social security number or date of birth.
One of the most frequent type of scam offers money for people to work at home, and most typically the operation is coming from a cyber criminal using victims as mules to move stolen funds. This is one of the most pernicious crimes, since the victims/mules may face criminal charges.
The report has a slew of good tips on avoiding getting victimized in its Appendix I on page 20.
As far as I can tell, the tips for what to watch out for in fake job offers are perfect for avoiding fake lovers and fake FBI agent lovers, particularly the first one:
Be wary of inflated claims of product effectiveness.
Be cautious of exaggerated claims of possible earnings or profits.
Beware when money is required up front for instructions or products.
Be leery when the job posting claims "no experience necessary."
Do not give your Social Security number when first interacting with your prospective employer.
Be wary when replying to unsolicited emails for work-at-home employment.
Be careful out there, and good luck finding love or companionship that's real.
Woman and man internet dating cartoons, courtesy of Shutterstock