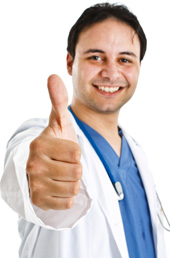 Hospitals, worried about lack of professionalism and inadvertent leaking of confidential data, are warning doctors not to set up relationships with patients on Facebook and Twitter.
A recent article in Network World pointed to a typical scenario in the case of Stanford University School of Medicine student Matt Goldstein, who graduates in June.
Goldstein, who has accepted a position at Brigham & Women's Hospital in Boston, said that the hospital told him in a letter that it would prefer that he refrain from using social media with patients.
The hospital also recommended that if he uses Facebook, Goldstein should change his settings to optimize privacy.
In addition, the hospital suggested that Goldstein review photos of himself posted online, to ensure he can establish a professional online identity.
Goldstein said he was a bit disappointed to have his social media interactions with patients curtailed, but he's well aware of the sensitivity of the patient-doctor relationship – never mind the legal quagmire that social interactions might lead to vis-a-vis patient privacy.
How much of a problem is social media interactions in the medical profession?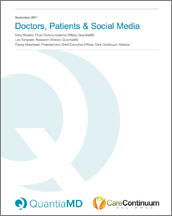 A study (PDF) done in August 2011 by an online physicians' community site called QuantiaMD found that out of 4,033 surveyed clinicians, over 65% of physicians are using social media for professional purposes.
That includes not just social networking sites such as Facebook or Twitter, but also online communities specific to the profession, blogs, and YouTube.
Very little of that use, though, is for communicating with patients.
Rather, the vast majority of doctors go online to seek out education or consultation, whether it's about new developments in medicine or consultation with peers about (anonymous) patients' issues.
As a matter of fact, as QuantiaMD's study noted, the American Medical Association (AMA) – the largest physicians' and medical students' association in the US – recently issued guidelines warning physicians about the pitfalls of letting the patient-doctor relationship bleed into online forums.

The AMA suggests that doctors "consider separating personal and professional content online" so as to "maintain appropriate professional boundaries."
The concerns are manifold, and the AMA is smart to caution doctors and medical students to watch their backs online.
The AMA worries about doctors maintaining their reputations and public trust, for one thing. Nothing like seeing Facebook photos of your doctor sucking off a beer bong to undermine their air of authority, I always say.
But one of the most serious dangers, of course, is the possibility that doctors may blow patient confidentiality online.
The AMA's first suggestion goes right to the heart of this concern, which is completely understandable, given that disclosing confidential patient information can mean running afoul of the Health Insurance Portability and Accountability Act (HIPAA), a US regulation that addresses the security and privacy of health data.
The AMA recommendation:
Physicians should be cognizant of standards of patient privacy and confidentiality that must be maintained in all environments, including online, and must refrain from posting identifiable patient information online.
Oddly enough, the evening I sat down to look into this issue, I was interrupted by a medical emergency that involved a friend with a frightening rash.
We called on the expertise of another friend, who happens to be a doctor. I'm writing this in an emergency room now.
Before I left to drive my friend to the hospital, I asked my physician friend if her hospital has a policy against social media interaction with patients.
She told me that social media use by hospital staff isn't codified and is instead left up to individual clinicians.
"But you personally don't choose to interact with patients, say, on Facebook, do you?" I asked her.
She blushed, "I don't have a Facebook."
I find myself relieved at the lack of relevance of social media in this one doctor's life, given the risks of jeopardized privacy and confidentiality. How does her social media abstinence compare to the population overall, though?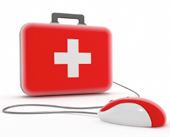 A December 2011 comScore survey found that 98% of online US citizens use social media.
QuantiaMD's findings that 65% of doctors use social media—a substantially smaller percentage than the 98% of the general population who do – suggests that we're looking at a population of professionals who have more important things to do than "Friend" their patients.
The Facebook generation who've grown up enmeshed in the social interaction of online communities are aging up and out into professions that include medicine.
Let's hope their interest in their chosen field, and their sense of professionalism, continues to keep up the wall between patients and doctors, particularly in the world of online social media, where privacy often appears to be in need of mouth-to-mouth resuscitation.
Friendly doctor image courtesy of ShutterStock