Many Twitter users have repeated the "news" today about the death of Mikhail Gorbachev, the former Soviet statesman.
The news seemed to gain momentum after a Twitter account (@FReinfeldtGov) created just an hour earlier, claiming to belong to the Prime Minister of Sweden, published the "news" of Gorbachev's death.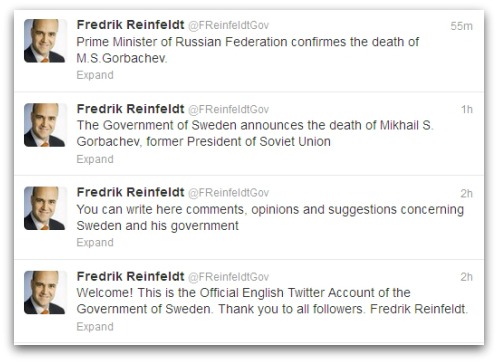 The Twitter account, whose authenticity must be questioned, even claimed that the news had been confirmed by the Russian prime minister.
However, as with the bogus news earlier this month claiming that Margaret Thatcher had died, the story of the death of Gorbachev is – of course – entire nonsense.
Once again, Twitter users are proving that it's all too easy to spread disinformation quickly around the world by not checking their facts.
https://twitter.com/#!/RTLondonBureau/status/204959909060689920
At least some journalists still believe in fact-checking..