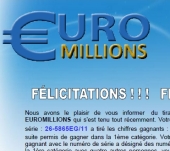 They used to be called "Letters from Nigeria", but it's not such a good name these days. Because they can come from any corner of the world, in a multitude of languages.
Many of us are all too familiar with the emails we can receive out of the blue, suggesting that a fortune is within our grasp.
Unfortunately, just as there's no such thing as a free lunch, there's also plenty of scammers out there waiting to take advantage of you with fake lotteries and false inheritances.
Here, for instance, is an email I recently received telling me that I had won a lottery.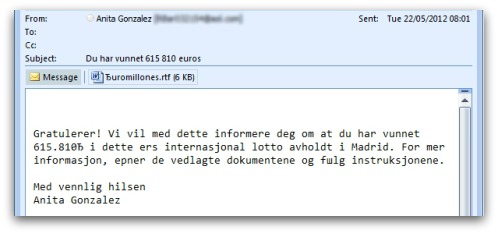 The email to me (an Englishman) explains (in Norwegian) that I have won a prize in a lottery (held in Madrid).
Have you got your head around that? Good.
Don't let the fact that you never entered the lottery disturb you, or let a question mark raise its ugly head with the thought of why such a big lottery winner would receive the exciting news via email.
Instead, feast your eyes on the email's Word attachment (if you read Norwegian that is):
And my luck didn't end there! Turns out I won another lottery on the same day! What are the chances?
This time, I'm told about my big win in French.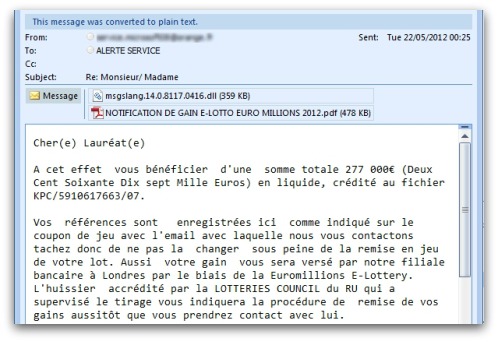 Again, I hadn't participated in the sweepstakes – but that's no barrier it seems to winning a lottery these days.
And as with the previous example, much of the detail of the lottery are contained inside an attachment (this time it's a PDF file).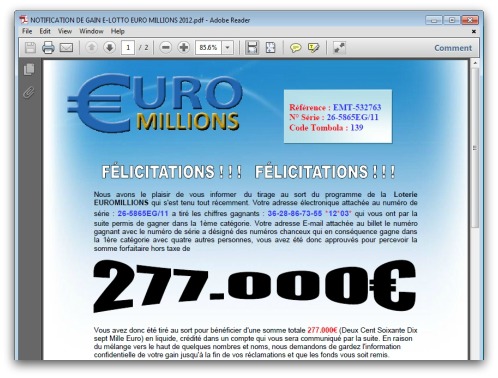 In case anyone is in any doubt at all, it's worth explaining what is going on here.
The above are all examples of a common scam known variously as "Letters from Nigeria", "419 scams" or "Advance Fee Fraud".
In the unsolicited emails the sender offers a large amount of money. Once the victim has been drawn in, requests are made from the fraudster for private information which may lead to requests for money, stolen identities, and financial theft.
The name "419 scam", by the way, comes from the relevant section of the penal code in Nigerian, the country which is probably best-known for this sort of scam.
It's wrong to characterise one part of the world as being responsible for such scams these days, as it's truly a global phenomenon. Although some parts of the world seem to have had cottage industries spring up around email scams, it's within the capability of anyone with an internet connection to try to make a quick buck out of it.
And unfortunately there are vulnerable people out there who fall for such scams, every single day.
In the worst cases, we've even seen people kidnapped by email scammers.
So please take care, don't believe every email you receive, and keep a watchful eye over those friends and family who might be vulnerable to this kind of approach.